Mountaineers defeat Blue Raiders in fourth straight bowl win
The 2018 season has been full of adversity for the App State Mountaineers. From the addition of new players in key positions to the departure of former head coach Scott Satterfield, App State has persevered no matter what obstacle they faced.
Finishing the regular season with an overall record of 10-2, App State met the Blue Raiders of Middle Tennessee State in the R+L Carrier New Orleans Bowl. Thanks to some creative play calling and an impressive defensive showing, the Mountaineers defeated the Blue Raiders 45-13, the largest margin of victory in New Orleans Bowl history.
"The culture we have at App State is something you can't explain," senior defensive lineman MyQuon Stout said. "We really care about each other, we work hard for each other."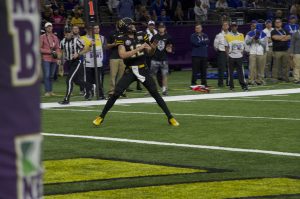 Sophomore receiver Malik Williams stole the show early by throwing a pair of touchdown passes in the second quarter. Once to fellow sophomore receiver Thomas Hennigan, and the other to redshirt sophomore quarterback Zac Thomas.
Williams finished the game with a single catch for 22 yards. He was also second in passing, completing two passes for 38 yards.
The Blue Raiders found the end zone once the entire night thanks to some excellent defense by the Mountaineers. Senior defensive lineman Okon Godwin recorded two tackles and a team-high 2.5 sacks in his final game for App State.
Junior linebacker Akeem Davis-Gaither lead both teams in tackles with 10. Junior safety Josh Thomas and senior cornerback Tae Hayes combined for 12 tackles and an interception apiece.
"We are just greedy when it comes to interceptions," Thomas said. " Just going out there and being in the right spot will help you make plays and I am happy to help the offense."
Redshirt sophomore Corey Sutton caught eight passes for 78 yards. His impressive performance on offense accounted for two of App State's six total touchdowns.
In his first bowl game appearance since taking over as the starting quarterback, Thomas completed 15 passes for 177 yards and three touchdowns. He also managed to catch a touchdown late in the second quarter.
True freshman Camerun Peoples checked into the game late into the third quarter, where he managed to break several tackles for a 63-yard touchdown run. Peoples has been a member of the scout team and will take a redshirt for this season.
With Satterfield's departure, assistant head coach and defensive line coach Mark Ivey served as App State's interim head coach for the game. He gives full credit for the win to the players and their dedication to App State's football culture.
"Tonight was a credit to the way these guys play, the way they practice and the way they train," Ivey said. "Our senior class did a great job of leading us, especially these last two weeks."
With their victory in New Orleans, App State extends their record for most consecutive bowl wins to four. The Mountaineers have won every bowl game they appeared in since joining the FBS in 2014.
Story by Garrett Wold
Feature photo by Mickey Hutchings 
Photo by Moss Brennan
Featured photo caption: The Mountaineers celebrate their victory as 2018's R+L Carriers New Orleans Bowl champions.