The Indiana Hoosiers overpowered the Mountaineers on Sunday in the National Wrestling Coaches Association dual championships, handing them their first loss at home this season after winning their previous eight.
Just last season, the Mountaineers (13-3, 7-0 SoCon) took down the Indiana Hoosiers (10-9, 2-7 Big Ten) 21-13 in Bloomington Indiana during the first year of the NWCA dual championships. App State fans packed Varsity Gym to see the rematch and watch the black and gold host a Big Ten school for the first time in school history.
No. 20 ranked senior Vito Pasone started Sunday's showdown at the 125 weight division against Indiana's Elijah Oliver. Pasone and Oliver ended regulation knotted up at 5 all, forcing sudden death. After Pasone looked like he had control of a takedown, Oliver slipped his way around Pasone and earned the takedown to seal the victory and give his team an early 3-0 lead.
With junior Nick Kee out of the starting lineup at the 174 lb. class, head coach JohnMark Bentley knew that his team was at a disadvantage today and that Pasone's match would be one his team would need to get if they wanted to win.
"We knew we had our backs against the wall today with us having a starter out," Bentley said. "We knew there were two weight classes we thought we could win and that was 125, which we lost in overtime, and 165 who we had beat before."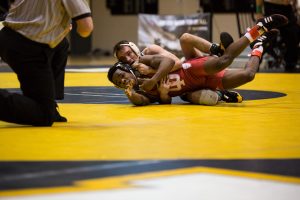 No. 29 ranked junior, Forrest Przybysz, fell to Indiana's Bryce Martin in a 6-2 decision at 165 to extend the Hoosier lead to 12-6. App's Elliott Raiford filled in for Nick Kee tonight at 174 lbs. and fell in 18-2 in a technical fall decision, resulting in 5 points for Indiana and a 17-6 lead.
"We knew going in without Kee in the lineup we had to win at least one of those matches if not both in order to win tonight's match," Bentley said.
Sophomore Matt Zovistoski remains no. 18 in the country after taking down Chris Perez in a 5-3 decision, and freshman Colby Smith, ranked no. 24, continued his dominance at the 133 lb. division by defeating his opponent in a 5-0 decision.
With Smith earning one of the four wins for the Mountaineers on Sunday, he still believes in his team's ability to bounce back before the conference tournament starts.
"We've been working really hard and we're just going to bounce back from this and come back stronger," Smith said. "This is just a little bit of a setback for a major comeback."
In spite of no longer being able to win the team dual, when Randall Diabe (197) and senior Denzel Dejournette (HWT) entered the mat for App State, the Mountaineer faithful lit up Varsity Gym as they both went on to win their matches to close out the night.
"It was a really big advantage even though we didn't get the results we wanted," Dejournette said. "The crowd was going crazy so that means they were very interested. I thought when it was to the point where we couldn't win anymore that the crowd would die out but they stayed excited and loud."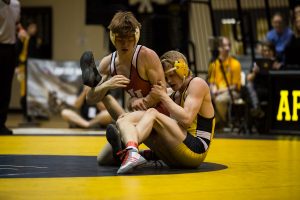 Diabe took down Jake Hinz in a 4-0 decision at the 197 lb. weight class, and Dejournette followed him up with a 4-1 victory over Indiana's Fletcher Miller in the heavyweight division. Miller, who is listed at 285, had a huge weight advantage over Dejournette who only weighed in at 262.
Despite having to wrestle someone with over a 20-pound advantage, Dejournette closed out Sunday's match with a win in what would be his final home match of his career.
"I definitely could feel it," Dejournette said. "The first takedown was a lot harder than he usually is. He had a strategy coming out there to stay heavy and not give anything up to me. Randall also helped me get riled up because seeing him get better was a big confidence builder for me."
The senior leader held a perfect 9-0 record in Varsity Gym during his senior season en-route to a SoCon championship and a no. 9 spot in the NCAA intermat rankings.
"It felt good to finish the season here with a win," Dejournette said. "That's something I'll take with me forever."
Even though App lost Sunday's match against the Hoosiers, the Mountaineer wrestling program has a lot to look forward to after hosting a Big Ten school in Boone for the first time in program history.
"The Big Ten is the power conference in America for wrestling," Bentley said. "If you think about it, what other sport here at Appalachian can bring a big ten team to Boone. It's never been done here at Varsity Gym. It was awesome. We had a great crowd and it was a fun atmosphere to be in."
The Mountaineers now look forward to the SoCon championships on March 4 at McAlister Fieldhouse in Charleston, South Carolina. The championship will be streamed live on the SoCon Digital Network.
Story By: John Robertson, Sports Reporter
Photos By: Chris Deverell, Photographer