Despite three players registering double-digit point totals for App State's men's basketball team, the Mountaineers fell to the Terriers 58-64.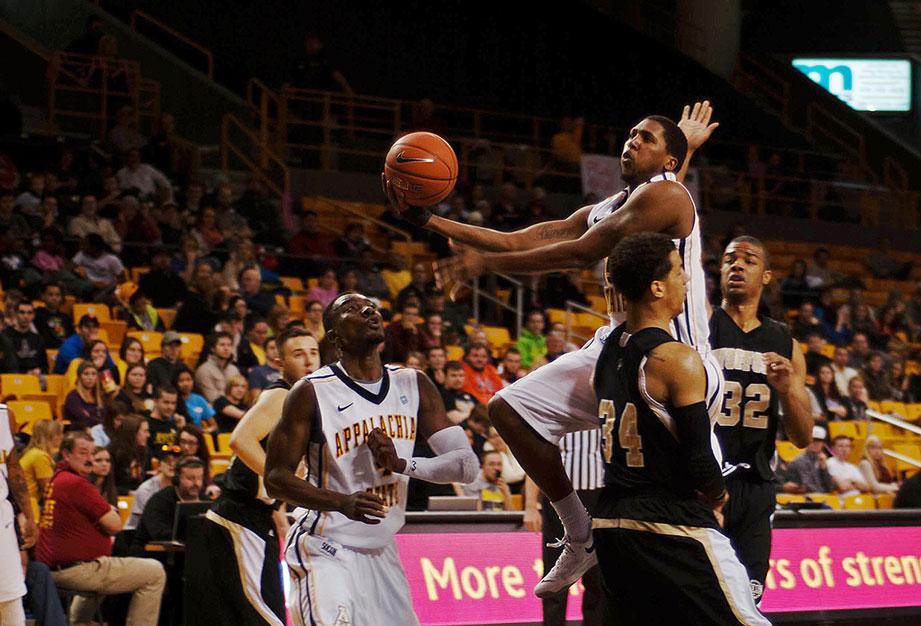 The win for Wofford is their eighth consecutive victory. The team's last loss came in a Jan. 18 contest against Chattanooga.
The first half between App State and Wofford featured 12 ties and eight lead changes.
The Mountaineers shot 63 percent from the field in the first half, compared to 41 percent for the Terriers, and took its largest lead of the game late in the half.
After junior guard Mike Neal gave App State a 33-31 lead with less than a minute left in the half, junior guard Tab Hamilton hit a 3-pointer at the buzzer to give the Mountaineers a 36-31 lead at halftime.
The Mountaineers led for about eight consecutive minutes of the second half, but the Terriers took its first lead of the half when junior guard John Swinton hit a 3-pointer to put Wofford up 42-40.
The two teams went back and forth until freshman guard Eric Garcia drained a 3-pointer with less than 8 minutes left to give the Terriers a 49-44 lead.
The Terriers would not trail for the remainder of the game.
App State was ultimately outscored 22-33 in the second half and attempted only 15 field goals, compared to Wofford's 24.
The Mountaineers shot 33 percent from the field in the second half while the Terriers shot 50 percent.
"Wofford made a lot of different adjustments that allowed them to get stops on the defensive end," Hamilton said. "We didn't make as many adjustments, and we got defeated. "
Head coach Jason Capel said one of the key aspects of the game was rebounding. The Terriers out-rebounded the Mountaineers 30 to 24, including 13 offensive boards compared to App State's four for the game.
"I thought today Wofford was the tougher team," Capel said. "It's impossible to win when you turn the ball over against not a lot of pressure and you get out-toughed to the tune of 13 offensive rebounds."
The loss drops the Mountaineers to 8-17 overall and 4-8 in the Southern Conference.
With four games remaining before the conference tournament, senior forward Tevin Baskin said the team is trying to remain focused despite the loss.
"One thing I can say about this team is I don't think we lack any confidence," Baskin said. "Even though our record may not be what we want, we are building and have four games left we are looking forward to."
The Mountaineers are back in action Thursday against Western Carolina at 7 p.m. in the final home game of the season.
Story: Cory Spiers, Sports Editor
Photo: Carson Hager, Staff Photographer