Well-rested Mountaineers
After notching its first-ever Sun Belt win, App State was able to enjoy a week off to recover and prepare for the final five games of the season.
The Mountaineers focused on fundamentals and the wide receivers focused specifically on route running during practice last week.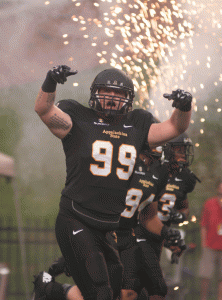 While the Mountaineers rested at home, Georgia State was busy being throttled by Georgia Southern, losing 69-31.
App State has the advantage of being at home and of having an extra week of rest on the Panthers who haven't notched a win since week one.
Saturday's game will feature temperatures in the mid 30s and scattered snow showers are possible.
Georgia State, which plays its home games in a dome, will have to adjust to the elements at Kidd Brewer Stadium.
Chilly November games have been kind to the Mountaineers of late, as the team is 19-1 in its last 20 home games in the month.
Rushing with confidence
A key to App State's first Sun Belt win was establishing the running game as the team rushed for 441 yards, spreading out the wealth well between sophomore Marcus Cox, redshirt freshman Terrence Upshaw and junior Ricky Fergerson.
In the cold weather, running will be important for the Mountaineers again.
It will allow them to take pressure off of redshirt freshman quarterback Taylor Lamb and control time of possession while wearing the Panthers down.
Embarking to the unknown
Saturday's game is the beginning of a five-game stretch of games against opponents that App State has never played before.
The Mountaineers can set the tone for the stretch with a win over an opponent who has had limited success over the past couple of seasons.
Story: Cory Spiers, Sports Editor
Photo: Rachel Krauza, Photographer