Eight former Appalachian State football players had a chance to impress NFL scouts during the school's annual Pro Day on Monday at Sofield Family Indoor Practice Facility and the Appalachian Athletics Center.
Linebacker Michael Frazier, quarterback Jamal Londry-Jackson, place kicker Drew Stewart, cornerback Rodger Walker and wide receivers Andrew Peacock and Tony Washington all played last fall for App State and worked out in front of 14 NFL scouts.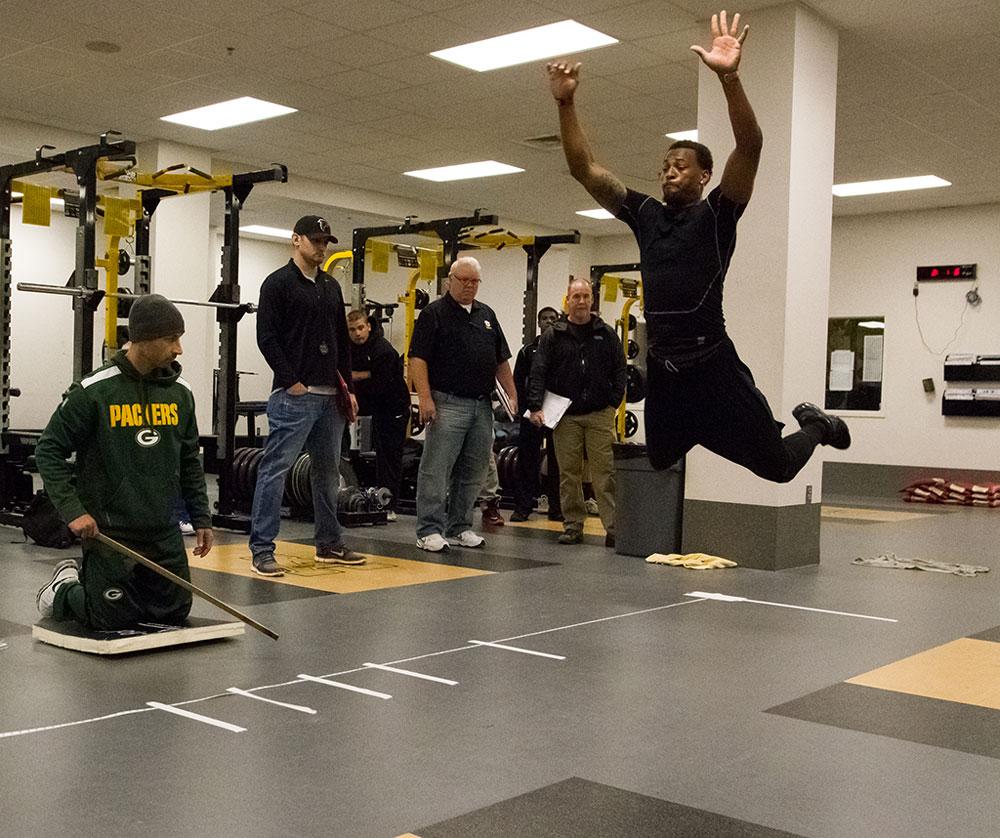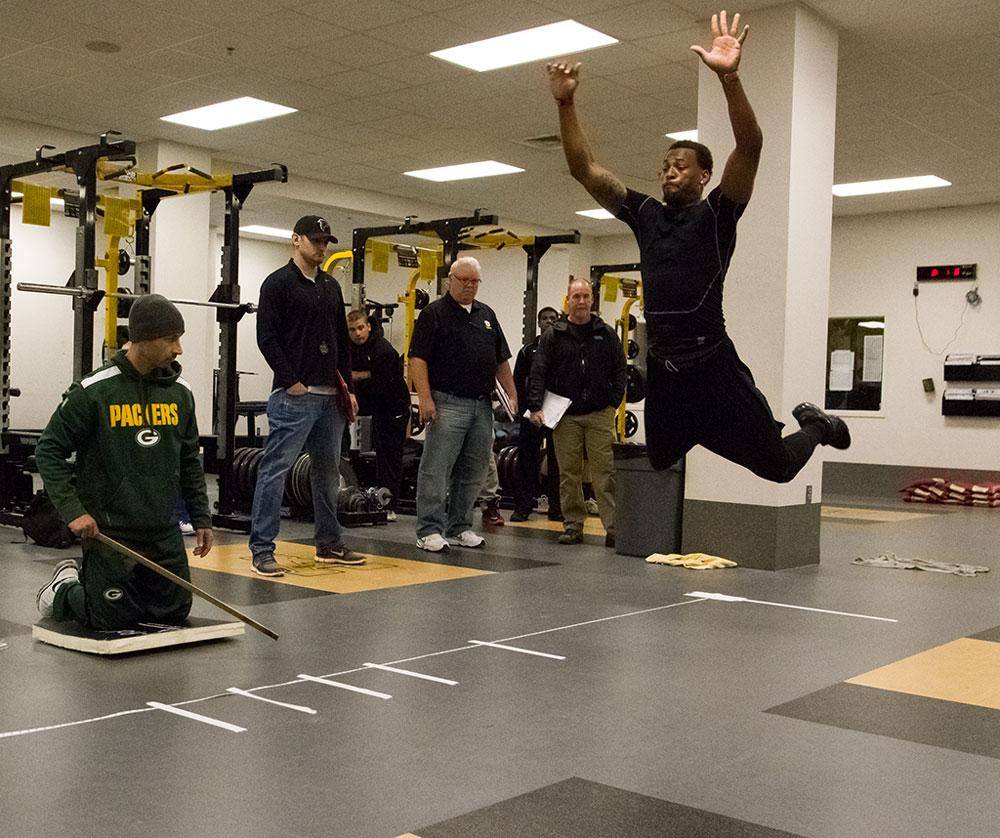 Linebacker Brandon Grier, who concluded his college football career with App State in 2012, participated as well. Seven other players from Gardner-Webb, Jacksonville State, Lenoir-Rhyne and Mars Hill also worked out.
Kareem Young, director of strength and conditioning for the Mountaineers, said he was especially impressed with Londry-Jackson, Peacock and Washington.
Londry-Jackson weighed in at 206 pounds after dropping below 200 pounds last season while working to recover from a knee injury.
Londry-Jackson was the only quarterback who worked out Monday, and Young said he looked confident throwing in front of the scouts.
"Londry-Jackson looked very clean with his passes," Young said. "He came in looking good. He's been working."
Peacock and Washington boasted good showings in the weight room. Washington bench pressed 225 pounds 21 times while Peacock bench pressed the same weight 17 times.
Washington had a 38.5-inch vertical jump and a 10-foot-5-inch broad jump. Peacock followed closely, notching a 38-inch vertical and a 10-foot-2-inch broad jump.
Young said the marks for Peacock and Washington were above the average among this year's draft-eligible receivers.
Washington's bench press numbers would have tied him for second among wide receivers at the 2014 NFL Combine, Young said. The most reps that any receiver at the combine could muster was 23 from Indiana's Cody Latimer.
Young also said Washington's vertical jump would have tied him for sixth among receivers at the combine. The highest jump by any receiver was 41 inches recorded by Tevin Reese from Baylor.
"[The scouts] were very impressed by Washington, and a close second was Peacock," Young said. "Washington stretched the field, and Peacock was just as explosive as he could be. They had a very good workout."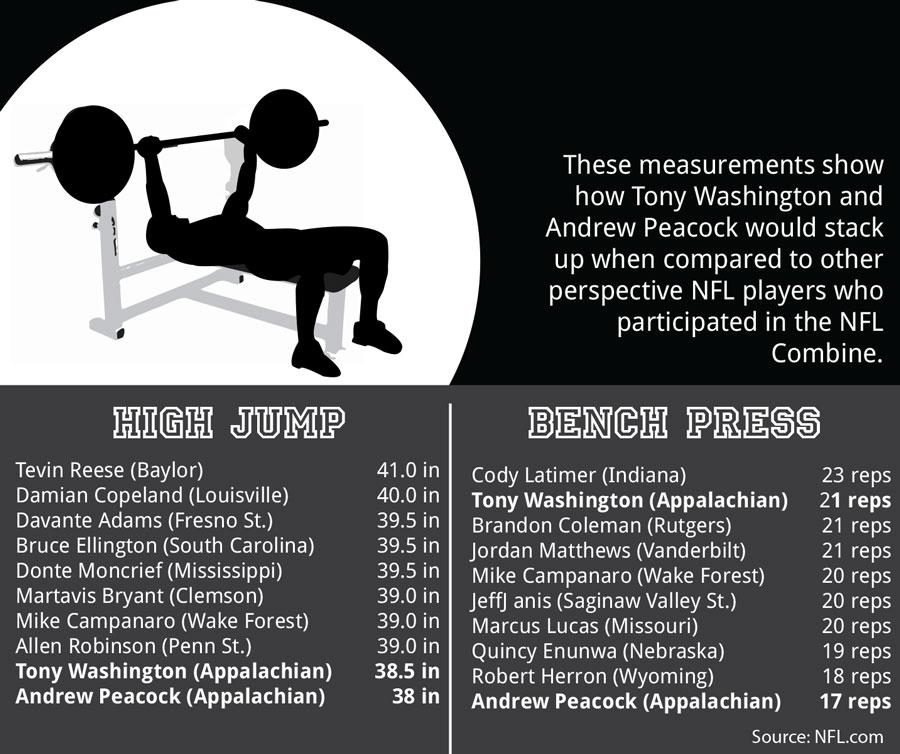 Peacock said he prepared extensively since last season ended, and it paid off.
"I was very happy with my overall times and lifts. It was pretty much what we expected," Peacock said. "We've been training very hard throughout these past two and a half months. This is what we do. You're a professional now."
Young said the next step for the players is to wait and see if any NFL teams invite them in for a visit to further evaluate them as a player and a person before the 2014 Draft.
Washington said he is not worried about what will happen on draft day.
"As far as what's going to happen, I don't know," Washington said. "For right now, I'm just focusing on being the best player, so wherever I wind up, I'm coming into camp focused."
The NFL Draft is set to take place May 8-10 at Radio City Music Hall in New York City.
Story: Cory Spiers, Sports Editor 
Photo: Courtesy of Tyler Buckwell, Appalachian State Athletics