Jaguars throttle Mountaineers 47-21
Hosting its first ever Sun Belt conference game, App State (1-4, 0-2 Sun Belt) struggled to keep up with South Alabama (3-2, 2-1 Sun Belt),  losing 47-21.
The Jaguars, led by senior quarterback Brandon Bridge, finished with 582 total yards. Bridge led the way with 339 passing yards and three touchdowns.
App State's redshirt freshman quarterback and former South Alabama verbal commit Taylor Lamb paced the App State attack with two passing touchdowns and 152 yards through the air.  He added 78 rushing yards on 13 attempts.
Bridge said the rest of his team was strong around him, making his job easier in the win.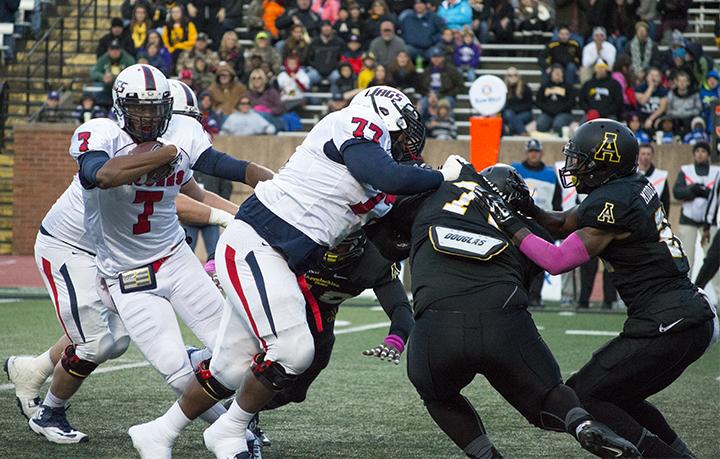 "I think I played alright tonight," Bridge said. "The offensive line did a great job of keeping me clean, and the receivers did a good job of getting open and making the throws easy for me. I just owe it all to the whole offense."
South Alabama head coach Joey Jones said he was pleased with the way his team performed on the road.
"I am very proud of this football team," Jones said. "Last week we traveled across the country to play Idaho and played a good game. We came here this week to Appalachian State where they have a lot of tradition. It's a great venue, and our kids played extremely well."
The defense forced the Jaguars into field goal attempts in the first quarter, and junior defensive end Deuce Robinson was able to block a South Alabama field goal attempt early in the first quarter. However, the App State defense eventually broke down, allowing six touchdowns and 582 total yards.
"South Alabama has a good football team and we knew it was going to be a challenge," App State head coach Scott Satterfield said. "Our plan coming in was to run better offensively than we did. The big concern defensively was their quarterback. In the third quarter we still had a good opportunity, but it just got away from us. They have a good football team and we have a lot of work to do."
App State came out of the gate very slowly with the first six possessions yielding no points.
Sophomore running back Marcus Cox fumbled on the first possession and the Jaguars cruised to a 20-0 lead midway through the second quarter.
Junior defensive end Ronald Blair said the team may have been too fired up, which may have stunted the Mountaineer attack.
"I think we just held ourselves back as we have in the past when we started out slow," Blair said. "We come out fiery and I think we over-hype ourselves before the game. We expect a little too much of ourselves and we need to calm down a little bit."
Next up for AppState is Liberty (3-3) on homecoming weekend. Liberty has no FBS wins on the season.
Kickoff on homecoming weekend is set for 3:30 p.m. in Boone.
Story: Nick Joyner, Senior Sports Reporter