Movies by Movers film series moves crowds
On Sept. 14, the 2017 Movies By Movers festival began showing on campus, and fans of performing arts came from all sides of the Appalachian community to appreciate films that captured the power of movement. Presented by the American Dance Festival through the Department of Theatre and Dance, this annual event brought together faculty and students alike.
Movies By Movers is an effort to connect fluidity of body movement and the power of the camera in what the website for App State's Theatre and Dance department called an "ongoing, dynamic conversation."Cara Hagan, professor of dance studies, values the connection that this showcase gives our campus to the national and international worlds of art.
The American Dance Association, based in Durham, North Carolina, produces this festival each year, traveling to different universities to represent their mission to share performance art. The celebration of the sixth showcase at App State opened doors to opportunities for students and viewers in years to come.
The Howard Street HOW Space hosted a closing reception to make a short film in honor of those shown throughout the event. With art from other Appalachian students as a backdrop, students from the dance department came to celebrate their own art through this film.
Phillip McRorie, a senior dance major, said he admired the new edge in using film to capture performance art. The films were strong in depicting the emotive aspects of the art form, communicating to viewers the opportunity dance gives to everyone; this was seen clearly in the "Something for Everyone" shorts.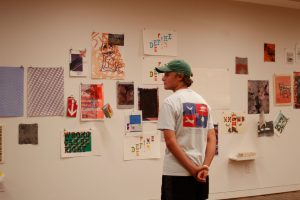 Each film showing was open to the public, inviting viewers to think and react as unique individuals were brought together to celebrate an individualistic art. The Friday showing of "Bobbi Jene" demonstrated raw reactions by several audience members. Students looked to peers for their reactions to the film's exhibition of the relationship between effort and pleasure. Reactions came as chuckles, coughs, averted eyes and shifts in seats; suddenly the space each individual filled in the theater had just as much of an effect as the content being seen.
Hagan said that Movies By Movers is held with the goal of showing the effect of art in a lasting way, so that "people go away thinking about it."
Rachel Gordon, a freshman theater arts major and a ballet dancer in the dance department, said she loved seeing the art of other performers. Her favorite film "The Living Room" depicts greater themes in everyday life and inspires art from simplicity.
Rob Gelber, the general manager of AppTV, has spent the past eight years involved in facilitating the event. When the Movies By Movers showcase was brought to Appalachian State University, it brought with it important exposure of performance art to the community. Dance as a medium grew from stage production to something with greater distributive value. Gelber said that adding in film as a production medium opens up a whole new set of options for visual artists to reach a wider audience.
"If your art isn't changing your life, then why are you doing it?" Hagan said.
Story By: Caroline Comer, Intern A&E Reporter
Photos courtesy of Grey Von Cannon