The motto for all App State students is that we give our all for App State. For most, that might be doing well in classes, but for athletes it means pushing their body to the limits in order to bring home fame and glory.
Mumu Guisasola, a senior starting defender for the App State women's soccer team, is an example of the dedication, perseverance and commitment App State requires of its athletes. On the field, Guisasola commands the defense, often playing the full 90 minutes. In 2022, she set a season record of 110 minutes played against Marshall in the Sun Belt Tournament, according to App State Athletics.
Guisasola started her soccer career early at the age of 5. Like many kids, she stumbled into soccer while playing a wide range of sports, even ballet. Guisasola said when she, her parents and her coaches saw that she was particularly good at soccer, she continued playing.
As she progressed through her career in her hometown of Miami, high school coaches recruited her for their schools. She eventually chose to play all four seasons of her high school career at Our Lady of Lourdes Academy. In 2016, Guisasola helped her team claim first place in the Disney Showcase qualifier, and again in 2017 as a semifinalist. 
When the university called Guisasola and offered her to play soccer at a Division I school in the mountains, it was everything she was looking for and she committed to the Mountaineers in 2020. 
"It's more than me just being good at the sport, these girls on the team, they become your sisters," Guisasola said. "You're with them 24/7, you are doing the same thing all the time together, they become your family."
Guisasola started 13 of the 16 appearances in her freshman season. In the last 10 matches of the season in the fall and spring, she started on the field and ranked fifth in minutes played on the team.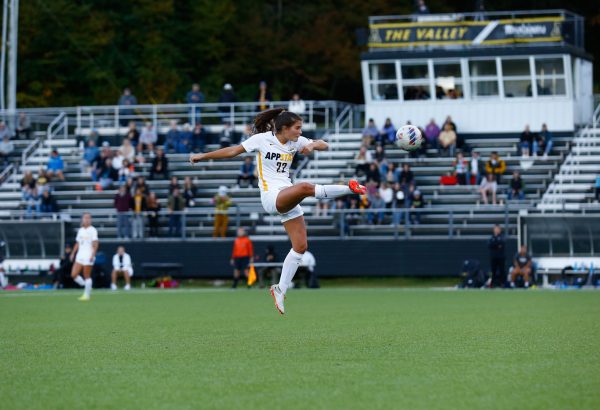 Her first time starting on an App State field was against the Pennsylvania Institute of Technology as a freshman.
"When I first stepped on the field I was very nervous," Guisasola said.
She was used to playing against girls that were her age, meaning they all were mostly 18 and younger, but now she was on the field with athletic 20-22 year-old players and played at a higher level for a lot longer, Guisasola said. 
Fortunately for her, the Black and Gold also had experienced players who took Guisasola under their wings for that first game, and helped her learn the ropes quickly and fight as hard as she could.
"I need to let them lead me and follow and not be stuck behind the pack," Guisasola said. "It was very scary first stepping on, I think after game three or game four I started to gain more confidence when I played and learning how to use my body when I played was key."
Now going into her fourth season, Guisasola is one of those experienced players who the incoming freshmen look up to and take their advice from. She takes this responsibility very seriously, and every day Guisasola strives to make her teammates feel welcome.
"You have to put the girls before you, you have to put their feelings before you," Guisasola said. 
Guisasola attributes a large part of the team culture to the new coaching staff. She said head coach Aimee Haywood and assistant coaches Mark Catterall, Mikayla Krzeczowski and Emilene Parham helped the team become who they are today, and that the staff has fostered a culture of support amongst all the players. Haywood sees Guisasola as a passionate backbone of the team. 
"Mumu brings charisma and passion to the team dynamic," Haywood said. "She is always positive and energetic. A heartbeat of the team."
For Guisasola, making sure everyone feels heard and like their opinions matter is the most important part of making sure newer team members are welcomed. 
"Regardless of soccer, regardless of the score of the game, regardless of any outcome that we get, what are your thoughts, what are your feelings and bring them into the conversation," Guisasola said. 
To her, every player has earned their spot on the team and "there is not one day that their presence goes unnoticed." By recognizing everyone's importance, Guisasola believes it empowers all the players to give every practice and game their all, and leave everything they have on the field.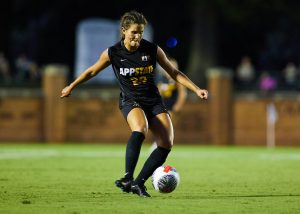 Other players notice this level of energy and appreciation Guisasola brings to everything the team does.
Kaitlyn Little, another senior defender, has played with Guisasola for the last three years, since they were freshmen. When arriving at App State, Guisasola was open-minded to Boone and everything it had to offer and that helped Little be more open-minded to what the year had to offer them.
"Mumu, in a lot of ways over the years, I think, in one word if you needed to sum it up is she has been very courageous through this whole thing," Little said. "She handled it with the utmost courage of anyone I have ever known."
On the team, Little has seen Guisasola make sure all the freshmen are heard and appreciated. For Little, that reassuring presence will be missed when Guisasola graduates.
"Mumu is the ultimate hype woman," Little said. "No matter what happens to her, or what challenges she is facing she puts them down and she puts her teammates first."
Working as a team, sometimes things just don't go your way. Rather than let that take all the wind out of her sails and crush the team's spirits, Guisasola sees every loss, tie or any other form of result that is different from what she wanted as an opportunity to learn, grow and become better.
"The coaches that we have don't let us sit on our downfall that much," Guisasola said. 
After each game, Guisasola reviews what went well and what can be improved on. If the defense was strong in a particular game, then the team focuses on improving their offense and attacking. 
"In every team meeting and scouting report session, Mumu always brings a word of motivation and encouragement at the end," Haywood said. "This is not pre-planned or instructed, just genuine buy-in and heart from her and passion for getting her teammates fired up and ready to play."
In the game however, Guisasola says she is never thinking about what needs to be improved for the next game. She is focused 100% on "defending like hell." 
"You can't give up this moment right now, you have to keep going," Guisasola said.
A great example of this is the game against High Point University Aug. 27. To her, the team fought hard all game, but the score, 0-0, just didn't go their way. 
"The last five or 10 minutes of that game my body was completely numb. The only thing that was actually working was my brain, and I really couldn't feel anything," Guisasola said. 
However, when Guisasola plays, the best thing for her is hearing the fans on the sidelines cheering. She said because she plays a defender on the sidelines, she often hears them yell "Go 22" or her signature nickname "Go double dose."
In the future, Guisasola believes she is prepared to help make wherever she works the best it can be. She sees her time here on the soccer team as practice for working with bosses and being a crucial part of a team. 
"When Mumu leaves there will be a large hole to fill when it comes to vocal leadership and personality," Haywood said. "At the end of the day Mumu brings so much love to what she is doing. She loves this program, each and every teammate, each and every coach, and she loves playing. That love is truly special and hard to replace."