National media directs attention to Appalachian Students
Several students carried mattresses around campus on Wednesday to show solidarity in supporting Emma Sulkowicz, a student at Columbia University, and to make others more aware of sexual assault.
Photos of the students with the mattresses have since gained national media attention and have been featured on several outlets, including  Huffington Post, Cosmopolitan, Amy Poehler's blog on Tumblr, the NY Magazine and the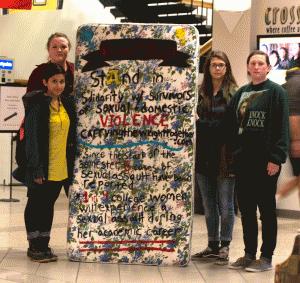 official event website, www.carryingtheweighttogether.com, said Julia Grainger, a participant and junior global studies major.
Sulkowicz reported a male student at her university for rape in April 2013, but Columbia found the student to be "not responsible." Since then, Sulkowicz has decided to carry a dorm room mattress with her around campus, until either she or the alleged rapist are no longer students at Columbia, according to www.carryingtheweighttogether.com.
The event was called Carrying the Weight Together and Oct. 29 was a day in which, according to the event's official Facebook page, more than 130 schools around the country and world had students participating. Appalachian's execution of the event was coordinated by the Feminist Student Union.
"Honestly, when I found out that it made Poehler's blog I felt like crying," Grainger said. "We got negative feedback from the event from a lot of people who didn't want to acknowledge the problem of sexual and domestic violence, but to know that media outlets and individuals are taking notice has been a real confidence boost."
Camille Tate, vice president of activism for the Feminist Student Union, said she hopes, through Carrying the Weight Together, universities across the nation bring more attention to the issue and also help prevent future similar occurrences.
"We want to raise awareness of the fact that one in four women are sexually assaulted while pursuing a college degree and often these cases are mishandled by the university," Tate said. "We are acting in solidarity with Emma and all women who have been forced to see their assailant's face on campus after a traumatizing experience like sexual assault.
Tate said three mattresses were carried throughout the duration of the day, and club members were handing brochures out on Sanford Mall.
Grainger said sexual assault statistics on college campuses are scary, but if they are not addressed, they can only get worse.
"The biggest message that I, and I think the other protesters were trying to get across, is that sexual and domestic violence on college campuses is a pandemic," Grainger said. "Some might call the collective carry too in-your-face or too assertive, but how else is one going to make people see that one in four college women will experience sexual assault during her academic career or that every 21 hours there is a rape on an American college campus?"
Nifemi Ogunro, another participant and sophomore industrial design major, said she believes the only way of getting the message across is to be radical.
"An actual visual and physical display of the effects that students go through when issues aren't properly addressed is a great way to get students to stop and pay attention," she said. "Unfortunately we live in a world where people's passion for a subject is dictated by its popularity."
Ogunro said she thinks what is happening is great, but national attention should not be necessary to bring light to events such as what happened to Sulkowicz.
Other North Carolina schools that participated, according to carryingtheweighttogether.com, include UNC Charlotte, UNC-Chapel Hill, Duke University and Chapel Hill High School.
"I think I just want people to know that as much as we educate and talk about social justice on this campus it is very important that we also take action," said Justis Tucker, founder of the Feminist Student Union and freshman accounting major. "I am proud that we are able to be a part of a nationwide movement to raise awareness about sexual assault on college campuses and demand change from administration on this issue."
Story: Nicole Caporaso, Senior News Reporter