New boundaries leads to Gaines flourishing play
Appalachian State field hockey goalkeeper Rachel Gaines's first year in college was very different than her second. Now a sophomore, Gaines spent her freshman year redshirting in Columbus, Ohio for the Ohio State field hockey team, roughly 420 miles and a little under eight hours away from Boone. Despite the transition and her distance from home, Gaines has become one of the field hockey team's stars on and off the field.
A native of Kettering, Ohio, Gaines grew up less than two hours away from Columbus, and kept a constant eye on Ohio State. She grew up a fan of the Buckeyes, and the school was always on the radar before it started to become a reality in her junior year. An assistant coach at Ohio State was also an assistant coach on Gaines's team and the recruiting began.
It made sense for the school to be interested. Gaines had spent her high school years racking up national awards and medals in the Buckeyes' backyard. Her decision eventually came down to just Ohio State and Davidson College in North Carolina.
Despite her accolades and academic accomplishments, her freshman year would not be spent on the field. Gaines was redshirted, saving a year of eligibility but not allowing her to see competitive play.
"When you're not playing, I saw my role to be contributing to the team in other ways. Helping to maintain the team GPA was a big priority, academics have always been a big priority for me anyways, but I felt that it was especially important given that I can't contribute on the field," Gaines said. "Ohio State had a lot of diverse options, a lot of classes to offer so I tried to take advantage of that where I could."
Gaines still is not sure about what the long-term plan was for her at Ohio State to this day. A coaching change resulted in the assistant coach that recruited her no longer being on the staff, and Gaines realized that she was not in the future plans as a starting goalkeeper. It was not an easy decision for the Ohio native, but a transfer away from the only state she had ever known was going to be necessary.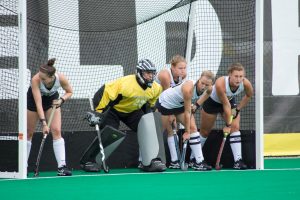 After handing in her transfer paperwork, Gaines was in the business of finding a new school. Gaines had important criteria for her choice of school, looking for a school with an academic record up to her standard as well as her desire to start on her new team.
A college field hockey player transferring schools is nothing like a pro athlete hitting free-agency. Gaines had to start making cold calls to teams and sending out what film she had of herself to whoever was interested. The market for a field hockey goalie is not one of the biggest in college sports, but Gaines was able to find 10 schools that had everything she was looking for. Of those 10, Appalachian was the last school she called.
Over 400 miles away, Mountaineers head coach Meghan Dawson was in need of a goalkeeper who could command the starting role. Gaines essentially fell into their lap, and it was the perfect situation for Dawson and the rest of the staff. Gaines' experience in training with a high-level program like Ohio State's was perfect for a team looking to find its footing, but Dawson was most excited about her off-the-field work. Gaines left Ohio State with a varsity letter and was honored as an Ohio State scholar-athlete.
"Any time someone transfers, or just comes into a school, academics are the first thing you look at," Dawson said. "If their academics aren't there then you can't get them in and it doesn't matter if they're the best player or the worst player, it doesn't matter. So, having her academics was a huge benefit knowing that we wouldn't have to struggle to help her get in or struggle with off-field stuff."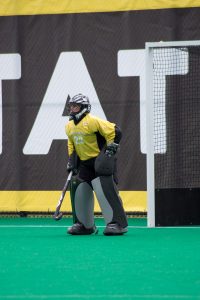 Gaines was told by Dawson that no spot was guaranteed in her squad, and that Rachel would have to win the job outright if she wanted to start. She put in the work and since the start of the 2016 season has started in 24 of the 25 games that she has played.
This season has been when Gaines' numbers have flourished, her average goals allowed has gone down from 4.53 to 3.56 goals per game, and her save percentage increase from 62 to 67.3 percent, good for 59th in NCAA Division I.
The transition from one of the most well-known colleges in the nation to Appalachian State is not an easy one and under some circumstances could have been devastating to anyone going through it.
For Gaines, there was the added weight of going from the only area she had ever known to 400 miles away from her family. That family had her back from the moment she decided to transfer schools, something that helped her during the transition.
Gaines found her footing here at Appalachian State since arriving in 2016, and has put the past behind her as she focuses on the Mountaineers, and what's next for the team.
"It's just focusing on building this team, the last piece of the puzzle is getting that record back to where it needs to be and I think that's what's next on the horizon for us," Gaines said. "We've spent the better part of two years developing the culture, making sure we have the players that are willing to buy into the culture. That next step is just focusing on that will to win and that finishing aspect and that's just what's going to win us games."
Story By: Ian Taylor, Sports Reporter
Photos By: Lindsay Vaughn, Senior Staff Photographer