New man up front for the Mountaineers
Emerging as the newest centerpiece for App State football's offensive line this year is true freshman Noah Hannon from Greer, South Carolina.
With the graduation of former offensive lineman Parker Collins, a door opened for Hannon in fall camp. Contending with more experienced teammates and fellow freshmen, Hannon earned his experience of baptism by fire with the starting nod at center against No. 15 Georgia on Sept. 2.
The Mountaineers were able to hold their own early in the game, but the Bulldogs eventually went on to win 31-10. App State was nearly able to produce 300 yards of offense thanks to the work of Hannon and the offensive line.
In his first-ever collegiate game, Hannon faced a "Power Five" team in Georgia. Now, Hannon has used that experience to take the helm of a strong offensive line at App State.
Hannon looks to continue the family football legacy out of Greer, South Carolina where his grandfather and father both competed at his former high school. Hannon's father successfully went on to play college football at East Carolina University.
Exposed to the game of football an early age, Hannon's interest grew while assisting in a broadcast booth and passing out water to players on the field at his former high school.
"I am from [a] small football town," Hannon said. "Everybody is at [a] football game on Friday night."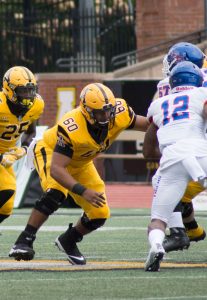 When his time officially came, Hannon played center within the offensive line his freshman year of high school. However, his coach moved him out to the left and right tackle positions the rest of his career at Greer due to the graduation of key players.
Hannon would not play center again until he was invited to the East/West Shrine Bowl. This was where Hannon learned the "cone" technique of snapping the ball and he has continued to use this fairly new concept today.
"I had other opportunities to play football in college, but I chose App because it felt like home to me," Hannon said. "Every time I came up here on a visit, I fell more in love with the place. Coach [Shawn] Clark made a special trip up the mountain with his son and daughter for my summer visit."
With App State co-offensive coordinator Shawn Clark's visit, it made Hannon feel like he was already a member of the App State family. Little did he know that his first game would be as a starting center against the No. 10-ranked team in the country.
"It was a dream come true for me. It was pretty cool to hear 93,000 people booing you," Hannon said, smiling. "The best part was to see the game appear on College Gameday prior to playing. At 9 a.m. at my house, College Gameday was and is always on our television every Saturday."
Having to protect and snap the ball for senior quarterback Taylor Lamb, Hannon made a solid first impression.
"I can count on Noah to snap it in my chest every time," Lamb said. "It was a good thing to see it in an environment such as Georgia. I have been blessed to be behind many great guys in my career here. If we can have confidence [Hannon], we can have confidence everywhere else because the play starts with him."
App's offensive line has given up only two sacks through three games thus far. Lamb took advantage of the opportunity and threw for a career-high 327 yards and five touchdowns in the first half of the Sept. 9 game against Savannah State. The running game has also benefited from the protection as App State has averaged 175.3 rushing yards per game.
"Hannon is doing well, but he can do better for us," Clark said. "He is on track to have a very good freshman year. He is smart and understands our schemes quite well. If he continues to do the things we ask him, he will be successful."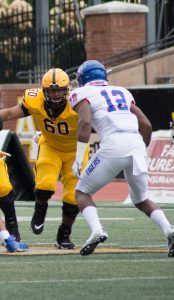 All rookies in any sport usually go through some type of growing pain. Confidence and experience are the only two natures that are capable to limit these mistakes. Hannon has been penalized three times so far in his young career, for a personal foul, a snap infraction and offensive holding.
"He has learned from his mistakes and will not do them again," Clark said. "He needs to improve on his strength and everybody knows that, including himself."
Penalties hurt the Mountaineers in their first game, but Hannon has already taken note of the learning curves.
"Nobody is perfect or plays perfect," Hannon said, commenting on his performance. "I have made mistakes in all games. I need to improve on the good things and make them into great things. I am trying to perfect my technique every day at practice while still getting used to the scheme."
Hannon's home debut at Kidd Brewer Stadium occurred against Savannah State. The offensive line played a major role in the 54-7 blowout victory for the Mountaineers. App State racked up 619 yards of total offense.
"It was a cool experience to run out of the helmet to the roar of cheers," Hannon said. "There is nothing like playing at home in front of your fans. We have a wonderful fan base with a great group of students."
"I love his confidence in handling calls and the guys beside him," Lamb said. "It's hard be vocal as a freshman coming in and he does it. He walks around with a sense of confidence and is further ahead than he should be as a freshman."
Having a full freshman season still ahead of him, Hannon will take his first few games as a learning experience, and try to help the Mountaineers win another conference championship.
"The team comes first," Hannon said. "I want to win championships and take this program to the next level. I am going to be the best I can for the team. If that means to be the best one to come through here at my position, then so be it."
Story by; Shane Harvell, Intern Sports Reporter
Photos By: Mickey Hutchings, Intern Staff Photographer