Trees were recently planted on the hill behind Broyhill Music Center, a spot more commonly known among students as the winter sledding spot, Suicide Hill.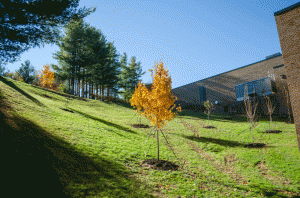 Fourty-one trees were planted on the hill and were part of a total of 64 trees planted across campus by Landscape Services, who partnered with about 30 student volunteers in October to plan, said Eddie Hyle, facilities superintendent for Landscaping Services.
The remainder of the trees were planted on a hill behind Appalachian Heights Residence Hall. Hyle said the decision to plant them was made shortly after winter last year.
"We have several reasons for planting the trees," Hyle said. "The thing that made us take initiative was when the head of the Broyhill Center contacted the physical plant with concerns, however. A lot of students were getting hurt on the slope behind the Broyhill Center while sledding, so we planted the trees as a way to discourage any potentially dangerous activities."
While while preventing unsafe actions was a main reason for planting the trees, Hyle said there are other benefits.
"Not only do the trees help beautify the campus some, they also help the university reduce its carbon footprint," Hyle said.
Senior finance and banking major AJ Risso said he is not concerned about the newly planted trees and does not think that they will interfere with usual "winter fun."
"I have been going to sled behind Broyhill for several years now – it's like a tradition," Risso said. "I understand why they planted the trees, and I honestly don't think that they will make a big difference or stop anyone from sledding down that hill. It may slow people down, but it definitely won't stop them."
Horticultural Specialist Chris Erickson helped manage the project, and said the two days went by very smoothly.
"The planting sites themselves provided the most challenge," Erickson said. "The steepness of the hills made digging and tree placement difficult. "
Hyle believes the change will be positive in the long run and students will come to love the new trees throughout campus and specifically at Suicide Hill.
"There are several different hills on campus that they can play on in the winter, and I think they will like the shade and shelter the new trees provide," Hyde said. "I think they will make for a sort of relaxed environment – a good place to read a book or just sit back and think."
Story: Madison Barlow, Intern News Reporter