The next generation of Mountaineers
National Signing Day took place on Feb. 1 and high school football players from all over the country signed their letters of intent, cementing their verbal commitments. On that day, App State signed 18 new recruits, the 104th ranked class in the country.
Just like last season, two early-enrollee recruits were in the class: cornerback D'Andre Hicks and defensive end Jermaine McDaniel.
Hicks comes to App from Charlotte High School in Punta Gorda, Florida. He is rated as three-star recruit by 247sports.com and scout.com. He is one of three commits in the class from Florida and has the second longest distance from home.
"I loved it. I loved the people here too," Hicks said. "It was just a great fit. I loved the coaches and they like to win."
One of last season's early enrollees was also a cornerback: Mountaineer fan favorite, Clifton Duck. Duck used his head start to great advantage, finishing the season as the team leader in interceptions, fifth in tackles and was named the Sun Belt Conference freshman of the year, as well as earning a spot on the USA Today Freshman All-America team.
"[I wanted to] get ahead in my academics and football. It will be cool to have a semester over everybody and I'll be closer to my degree," Hicks said.
When asked if he thought he could live up to Duck's performance, Hicks stayed modest. "We're gonna see," he said.
Jermaine McDaniel comes to App from Dillon High School in Dillon, South Carolina. He is rated as a three-star prospect by ESPN.com, 247sports.com and as a two-star by rivals.com and scout.com. He chose App State over Georgia Tech and Coastal Carolina.
"The thing about Boone is that it felt like home when I visited," McDaniel said. "It felt like I could be acclimated quicker and that I'd like to spend four to five years here and call it a second home."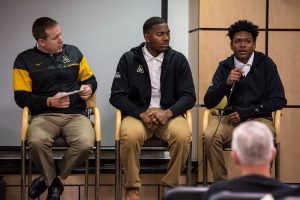 McDaniel kept earning his degree at the front of his mind.
"My major is actually International Business, so if a fifth year comes I wouldn't be sad about it because I can get my major in and apply what I learn to the real world and work," McDaniel said.
Head coach Scott Satterfield talked about finding the right type of players for the program.
"So many things can be said about a talented player, here or there, throughout the country," Satterfield said. "For us, it's always been about fit. We've got to find the right kind of person that wants to come play here, that wants to come be a part of championships."
The Mountaineers lost some key talent at cornerback and defensive end this past season with the departure of seniors Mondo Williams and Nate Norwood respectively. App State has had freshmen make their mark early before, most recently with Clifton Duck, but also with players such as Eric Boggs, Marcus Cox and Armanti Edwards. Satterfield is confident that this new set will only add to history. 
"I really think this is going to be an outstanding class. I think a lot of these guys are going to play next year and that's just because I think they're that good," Satterfield said. "I think they're going to be that competitive, and that type of player to help us win."
Story By: Brooks Maynard, Sports Reporter
Photos By: Chris Deverell, Photographer