Nontraditional students have unique perspective on college life
The definition of a traditional undergraduate student is someone who enrolls at a university the fall immediately following high school graduation. With more than 16,000 undergraduates at Appalachian State University, how many students fit the definition of "traditional college student?"
In the case of Appalachian, most of the traditional undergraduate students are ages 18- to 22-years-old and from North Carolina, making them in-state students.
There are various types of nontraditional students: Reserve Officer Training Corps students, students who have taken one or more gap years after high school before enrolling at Appalachian, out-of-state students, non-degree students and older undergraduates.
There are currently 134 non-degree seeking undergraduate students. Director of Admissions Lloyd Scott said, there are many types of students who choose to take undergraduate classes at Appalachian without the goal of obtaining a degree.
Among them are visiting students from other universities, post-grads who need to fulfill prerequisites for a graduate or professional program, home-schooled students or accelerated high school students and a "very small number are adult learners taking classes that are of interest to them," Scott said.
Currently, there are 1,710 out-of-state students enrolled at Appalachian. The most common feeder states include Georgia, South Carolina and Virginia, with sizeable populations from Florida, Maryland, Tennessee and New Jersey as well. In total, Appalachian has undergraduate students from 43 of the 50 states.
Sophomore music industry major Lindsay Rudisill, originally from Lookout Mountain, Georgia, said she expected a culture shock before coming to Appalachian.
"Sometimes, I feel like I'm different," Rudisill said. "The lifestyle here is different. The Boone lifestyle is very interesting."
Rudisill said the vibrant music scene in Boone as well as cultural events such as the Fiddlers Convention, were aspects local schools likely could have provided in her college experience.
Rudisill decided to attend Appalachian because it has one of the top music industry programs in the country, as well as the perks of close connections to successful alumni.
As far as downsides of attending a school in a different state than her home, she admitted that the weather was a rough adjustment for her, saying, "The wind here is just like ice pelting your face."
In addition to state residency, age is another key factor in traditionality.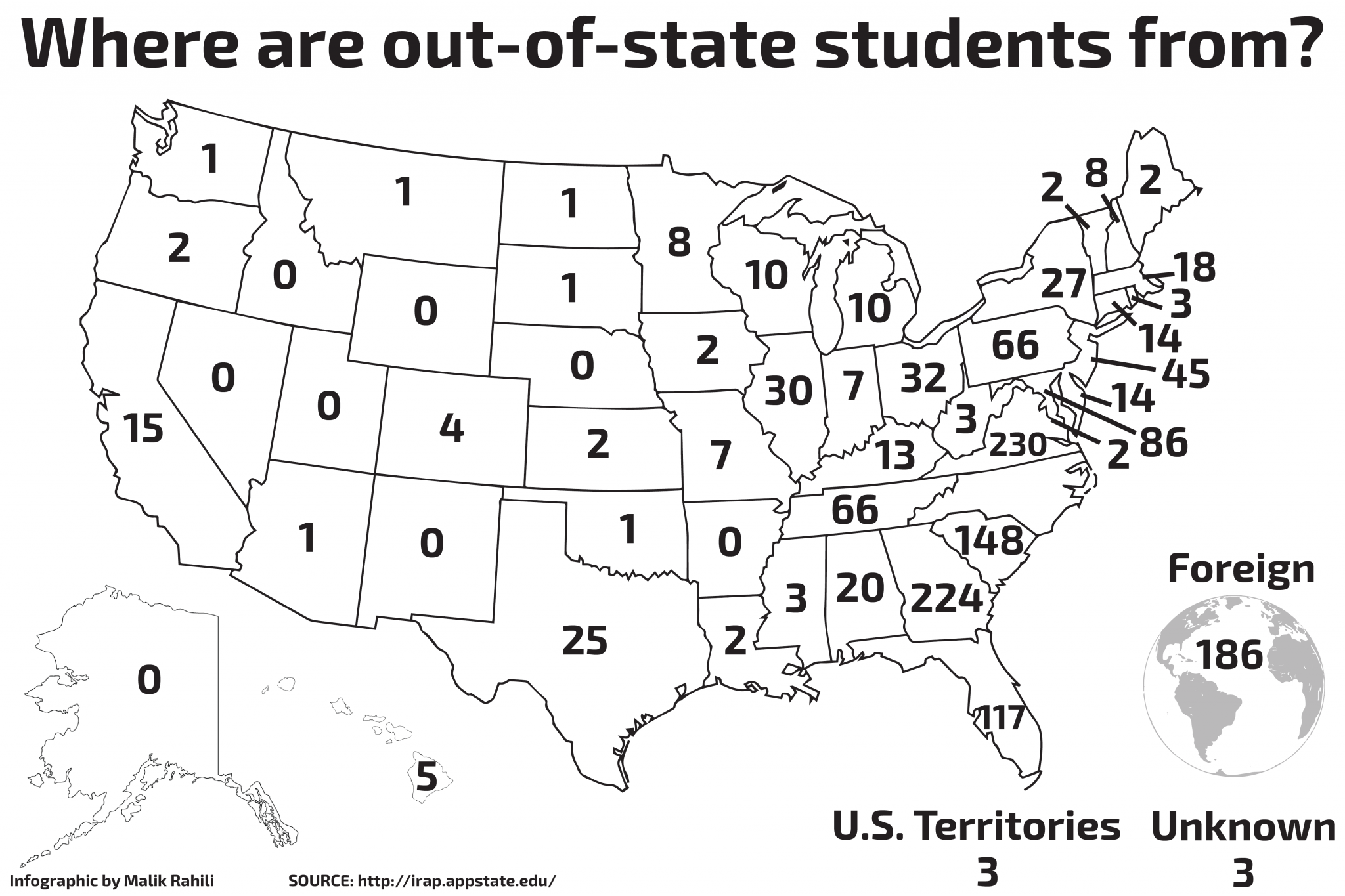 This academic year, 85.6 percent of the student body is younger than 22 years old, which meet the traditional undergraduate age averages. In contrast, 7.6 percent of undergraduates are between the ages of 25 and 29, and 3.3 percent of undergraduates are over 30 years old.
Social work major Joshua Upchurch is one student whose age exceeds the mean. At 26, Upchurch is hard at work on his second bachelor's degree. A Hampton, Virginia native, he obtained his first degree three years ago in psychology from Longwood University.
After becoming licensed in both basic and wilderness Emergency Medical Technician training and working in the Post-Anesthesia Care Unit of a Winston-Salem hospital for nine months, he knew that he would have to return to school and garner more credentials if he wanted to pursue a sustainable career in the field.
This realization led him to re-enroll in undergraduate courses, this time at Appalachian, in January 2014 with ambitions of becoming a nurse. Since re-enrolling, Upchurch has decided upon a different route – social work – and is pursuing his master's in the field.
Upchurch denies feeling much different from his younger classmates.
"There's not a significant gap," he said. "We're all within the same decade, and I can usually pass for being younger than I am."
However, this is not to say he shares the same hobbies as many younger undergraduates.
"I don't hang out with the people who just want to go out and drink all the time because they just turned 21," Upchurch said. "It's nicer to not have as many distractions as when I was a young, traditional student."
If Upchurch could do it all over again, he said he would travel and hold jobs before going to school later on in life.
"I would have appreciated my education more," Upchurch said. "I see with much more clarity now."
In fall 2014, 24 students requested and were granted a year-long leave of absence from Appalachian.
Scott said typical reasons students may defer enrollment included international experience, – such as volunteering or mission work – military commitment, financial need or health-related reasons.
For their part, ROTC students handle college courses while also taking intensive courses involving intense athletics, leadership and the military. Currently, there are 145 undergraduate students that are enrolled in the ROTC program.
Junior history major Thomas Mackie said he knew since high school that he wanted to join his college's ROTC.
He chose Appalachian over respectable military academics such as The Citadel because he wanted to have a more traditional college experience.
"[Appalachian's ROTC is] definitely a brotherhood," Mackie said. "It definitely has a fraternity feel. We all know each other. We hang out together. We do a lot of stuff together. Nothing breeds camaraderie like suffering together."
While most undergraduates are sleeping, the ROTC students exercise three to five mornings a week in the Quinn Recreational Center or at Kidd Brewer Stadium.
Appalachian has held onto its designation as a Victory Media's "Military Friendly" school. The university has held onto this honor since 2010, which is given to the top 15 percent of schools that do the most to embrace military students.
While their lives as undergraduate students may be much more disciplined than those of the average Appalachian student's, Mackie believes that at the end of the day, ROTC students are not much different than other college students.
"We're still college students," he said. "We like to have fun."
STORY: Julia Simcoe, Intern News Reporter
INFOGRAPHIC: Malik Rahili, Visual Managing Editor