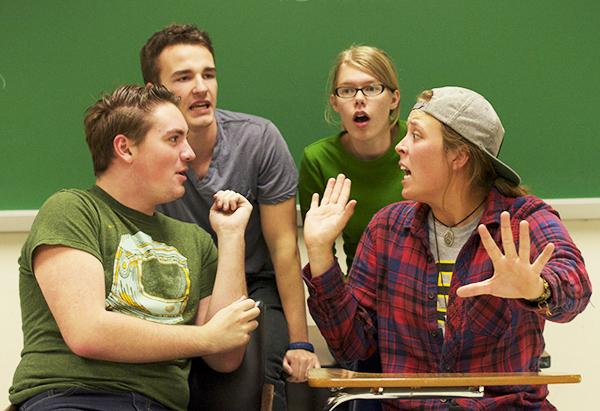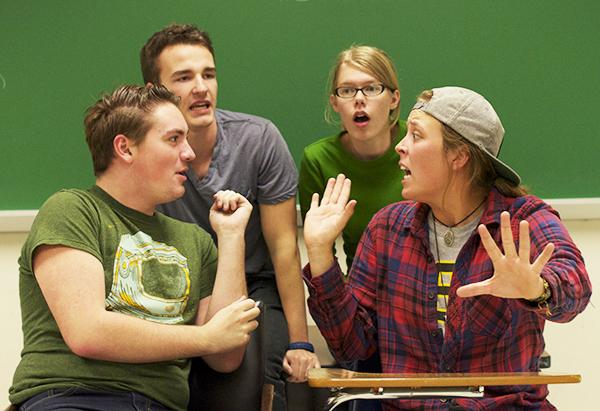 This past Wednesday, NouN Improv, self-described as "Appalachian State's best – and only – improv group," returned once more to Legends.
The improv group has been performing in the Boone area for the last 12 years or so, and although the founding members have all grown up and moved on, there's always fresh talent ready to take to the stage.
"It's our first paid show of the year," said sophomore chemistry major and second year NouN member Shane Jones. "We do one Legends show a semester, usually, as our main fundraisers. Up to the point of the Legends show, we try to practice as much as we can with our new members to make sure they're ready for a paid performance, because we don't want to give a bad show to the audience. But I feel pretty good about it. We still have a few things to work on, but we have three more practices in between now and then."
Jones joined the group at the very beginning of his freshman year, and has performed with the group ever since.
While the group ordinarily performs for around 30 or 40 people in small bars or clubs, the Legends shows typically draw a much larger crowd.
"It's usually around three to four hundred," said NouN veteran T.J. Scott. "We usually get pretty close to selling out at Legends."
Scott, a junior technical theatre and graphic arts and imaging technology major, joined NouN Improv during his sophomore year at Appalachian.
One benefit of the Legends show is the chance to show off the group's newly selected talent, like freshman psychology major Brennan Mullin, one of the members accepted into the group earlier this semester.
"I saw the group perform at DSI Comedy Theater in February of this year, and I thought it was something I wanted to be a part of. So, I auditioned," Mullin said. "It's a great experience, and I think that if anyone wants to audition, they totally should. Everyone's just like a family, and it's a great thing to be a part of."
As soon as tryouts end, practices ensue.
"The new members are part of that," Jones said. "Once they're on the team, members are more or less equal. People hold positions like president and stuff like that, but we still aren't supposed to have one person who says what everyone does. We don't have a coach."
Jones said NouN is excited for their Legends show.
"That's like our time to shine as improvisers," he said. "I always get really excited for the show, and I'm excited to see how the new people perform because everyone kind of brings their A-game for the Legends shows. It's going to be exciting to see where everyone stands as of next Wednesday."
Story: R. SCOTT MORRIS, Interim A&E Editor
Photo: OLIVIA WILKES, Senior Photographer