O'Brien speaks about legacy, leadership
Soledad O'Brien spoke at Appalachian State University's Schaefer Center for the Performing Arts on Tuesday as part of a rescheduled event for the Diversity Lecture Series.
O'Brien, an award-winning journalist, documentarian, news anchor and producer, was originally scheduled to speak Jan. 21 at the 30th Annual Dr. Martin Luther King, Jr. Commemoration. The event was initially postponed due to weather-related safety concerns at the time.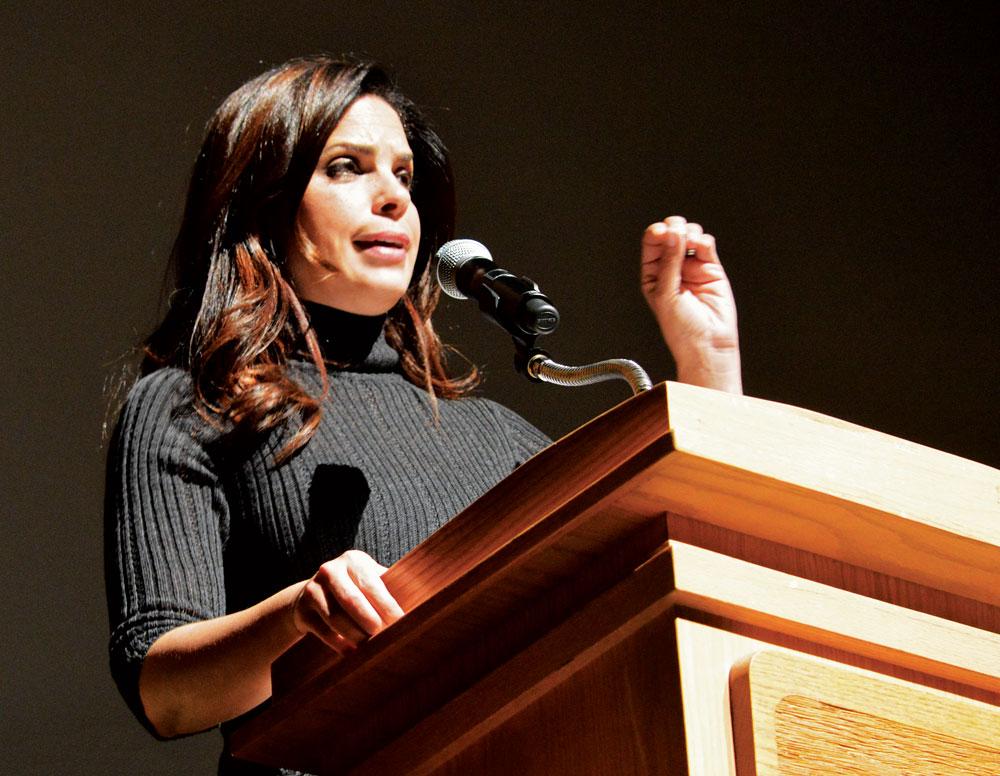 Her talk, titled "Diversity: On TV, Behind the Scenes and In Our Lives," focused on the legacy that Martin Luther King Jr. left as well as what kind of legacy everyone can leave.
"The great thing about talking about Dr. Martin Luther King, Jr. is it is really a timeless message," O'Brien said. "It doesn't have to be slotted on a day or a month. It really is a message that transcends the days, the months and the years."
O'Brien said in her first documentary coverage of King that she learned he was a regular man who decided to lead.
"Legacy is a very big word, but ultimately I think it is what Dr. King constantly exhorted us to think about," O'Brien said. "What is your legacy? What is the point of why you're here?"
Speaking about leadership, O'Brien said King exemplified that leadership is about justice as well as departing from the script.
"My parents taught me that there were opportunities where you didn't have to go with the flow," O'Brien said. "You could decide the life that you wanted to lead. You could decide what success was going to mean for you if you had the guts to do it."
O'Brien is the daughter of a black Cuban mother and a white Australian father, as well as being one of six children. She said when her parents met in 1958 in Baltimore, Md., every single restaurant they attempted to go into would not serve them together.
O'Brien said when she asked her mother how they handled people's negativity toward their marriage, her mother responded, "We knew America was better than that."
"I really loved that phrase because to me that meant those powerful words were what we could help create," O'Brien said. "We could be part of moving something in a better direction because we were invested, we cared, we saw where we could go. I think there is a special bravery in deciding that you're going to sit firmly on the right side of history."
O'Brien said much of her reporting has been framed by her coverage of King because she enjoys reporting on leadership.
"I've had lots of opportunities to tell stories and marginalize people and I think that's where I really began to find my voice as a reporter," O'Brien said. "I didn't mind traveling to cover my documentaries or being away from home, even with my four small children if it meant the story that I could tell would be different from what others would do."
O'Brien's international news coverage and documentary work includes the 2004 tsunami that hit Thailand, the aftermath of Hurricane Katrina, features of the Sept. 11, 2001 terrorists attacks and missionary work done in Haiti.
She is the former anchor of CNN's "Starting Point," and is the originator of Black in America and Latino in America, both of which are amongst the network's most successful domestic and international franchises, according to a university news release.
In June 2013, O'Brien launched Starfish Media Group, a multi-platform media production and distribution company, dedicated to uncovering and producing empowering stories that examine issues surrounding race, class, wealth, poverty and opportunity through personal stories.
In addition to launching Starfish Media Group, O'Brien serves as a correspondent to Al Jazeera America and HBO's "Real Sports with Bryant Gumbel."
O'Brien was introduced by Chancellor Kenneth Peacock and freshman public relations and marketing major Jazmine Griffin.
"Soledad O'Brien is an everyday woman," Griffin said. "Her perseverance has shown that she has the will and the drive to follow through with all she hopes to achieve."
Story: Gerrit Van Genderen, News Reporter
Photo by Aneisy Cardo, Staff Photographer