Over the first two days of early voting in Watauga County, there were 2,645 votes accounted for on Thursday and Friday, according to the Watauga County Board of Elections.
The location with the highest voter turnout was Appalachian State University's Plemmons Student Union. Exactly 1,124 votes were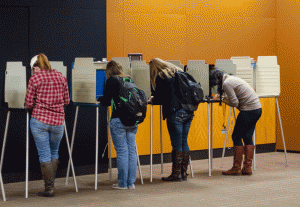 placed in the Price Lake Room.
Additionally, 1,062 votes were counted from the Watauga County Administration Building, 155 from Blowing Rock Town Hall, 85 from the Deep Gap Fire Department, 89 from the Meat Camp Fire Department and 130 from the Western Watauga Community Center.
Anne-Marie Yates, Chairwoman of the Watauga County Republican Party, said as an alumna of Appalachian, she is proud of the civic-mindedness of the community.
"All members of our community, including those at Appalachian, deserve convenient access to the polls," she said. "While there are concerns about voters being harassed by those electioneering for their candidates and access to curbside voting for the handicapped and elderly, the student union serves as one of the six early voting sites available to registered voters to cast their ballots."
Ian O'Keefe, the Coordinated Campaign Manager for the Watauga County Democratic Party, said he is glad students are contributing to the election.
"I think it's huge that early voting in the student union has been the most popular place in the county, and it shows just how important this election is to community members and students," O'Keefe said. "We are seeing pretty good turnout for students. It's constantly having a line of, I'd say, 90 percent students, and it's really exciting to see that many students care about voting."
Yates said she feels it is important for students to be fully informed before casting their ballot.
"I would encourage the students at [Appalachian] to look at both sides of each issue before voting instead of listening to the laughable propaganda being put out by the Democratic party," she said. "The students at [Appalachian] are smart enough to make their own decisions and I am confident they can sort through the misinformation the Democratic operatives are spreading and choose the most qualified candidate for each race."
O'Keefe agreed with Yates, in that he too, feels it is vital for the community to be informed before voting, but he would like to remind voters what political party stood up for voting access for Appalachian students – something he feels is as big an issue as any in this election.
"The Watauga County Republican Party was responsible for taking away our student union polling place, which I consider unconstitutional voter suppression," he said. "I think informed voting would be students knowing who is fighting for them and who is fighting against them."
O'Keefe said no matter the turnout of the elections, it is a good thing that students were able to contribute to the results.
"I think that it is increasing student voter turnout, which is great, not necessarily for partisan reasons, but for allowing students to have their voices heard at the ballot box," O'Keefe said.
Story: Nicole Caporaso, Senior News Reporter