Appalachian State University has had a wide variety of student initiated events that focus on an array of different topics, with one of the most recent being a panel discussion about gender identity.
The Phi Beta Sigma fraternity hosted "Think Like a Man, Think Like a Woman, and Everyone in Between," also sponsored by the Women's Center and CASE Thursday evening in Crossroads Cafe of Plemmons Student Union. About 30 students were present at the event.
Reginald Gravely, moderator of the discussion and member of Phi Beta Sigma, said the sponsors of the event played an important role in planning the panel discussion, as they all worked together to make the event as inclusive as possible.
There were six panelists, three male and three female. Each discussed how their gender affects them relating to their race, sexuality, families and personal experiences.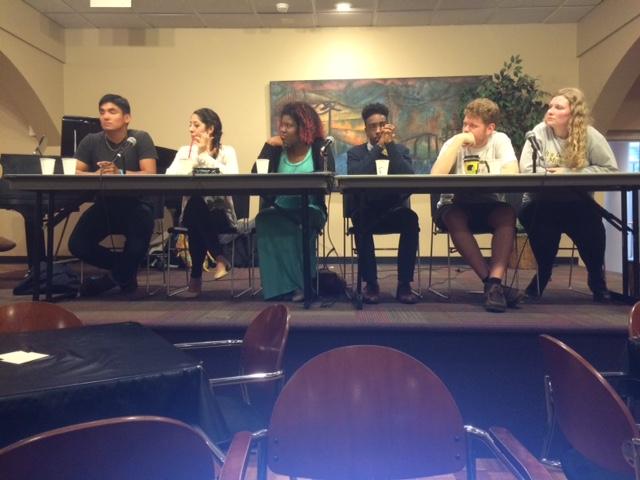 As the discussion primarily revolved around how each panelist experiences his or her own gender, Gravely had the participants begin by defining what gender means to them, with all six agreeing on roughly the same definition, which separated gender from sex.
"An easy way to remember it is gender identity is what's between your ears, so how you perceive yourself, and biological sex is what's between your legs, so the actual, physical characteristics you have," said Maddie Majerus, senior political science major.
While discussing the most prevalent gender expectations, Majerus said expectations that socially come with being female include being sympathetic, nurturing, but not too aggressive or emotional.
Cele Rodriguez, freshman athletic training major, said a typical male is stereotyped to be strong, stubborn and assertive, whether right or wrong.
"I know for me specifically I'm super emotional about everything and there's expectations for me to not be emotional, to be tough, and not to cry or talk about your feelings," said Joshua Carr, senior psychology major. "I think that's pretty prevalent across the board for men as a whole. It's dangerous, we teach our young men, kids, boys, to not feel and then we wonder why they're not feeling when they turn into adults and why they can't have positive relationships."
Nathalia Ruiz, junior psychology major, spoke on her own experience of being oppressed because of her sex when she enlisted in the Army National Guard at 18-years-old.
"My gender affected my everyday life when I was at work because I'm the only girl surrounded by like 20 guys and they were like 'whatever, you don't know anything about this, you're a girl,''' Ruiz said. "I was like 'no, I went through the same training, I have the same life that you do, so it shouldn't matter whether I'm a girl or a guy.'"
Ty White, sophomore political science major, spoke on her experience as an African American female.
"So many people come up to me and say 'I don't think you're black,' just because I like comic books or I might listen to rock music over rap music," White said. "I'm not really loud or what they think black women are, loud and aggressive. I feel like black women are just always lower on the totem pole."
Carr, who is an African American male and member of Alpha Phi Alpha fraternity spoke on an experience where a white female asked him why he was dressed so nicely on a day he was wearing a bowtie, something Alpha Phi Alpha does for "Bowtie Thursdays."
"She asked me 'why I'm dressed so nice, what's the occasion,' and I said, 'well, it's Thursday," Carr said. "And she said, 'well, good for you,' as if as a black man I'm supposed to wear basketball shorts and a tanktop with my hat backwards and a chain around my neck and not be able to converse with you in a way that is pro-social."
Carr said it's often difficult to be a black male on Appalachian's campus, which is largely white.
Patrick Long, senior psychology major, said that as a white male he is a listener first, and a talker second. Long believes social justice awareness is something that is popular at the moment.
"We're in a college environment where it's like, yes it's trendy, but we're also held to higher expectations, we hold each other to these expectations," Long said. "What we need is to hold our communities to these expectations too."
When discussing allyship, the panelists agreed it should come from pure motives.
"You should also not want a cookie, that's a really big thing," White said. "They want people to pat their back and say 'you're doing such a good job being my ally,' but you should want to stand up for things that are wrong. I shouldn't have to give you accolades or give you a reward because the work should be more rewarding than that."
Gravely said he is grateful to the panelists for being comfortable enough to express their ideas and experiences with an audience.
"I hope that everyone in attendance learned new terms, ideas and ways of life that they might not have experienced or been exposed to," Gravely said. "Another hope would be that people open up their horizons as far as their openness and acceptance is concerned. Appalachian State is in a pivotal point and it's discussions like this that opens up conversations and allows for people to expand their minds."
STORY: Nicole Caporaso, Senior News Reporter