Panorama talks debut to a full Crossroads Cafe crowd Thursday
Student perspectives were captured and brought to life in Crossroads Cafe in Plemmons Student Union on Thursday at the Student Government Association's Panorama, an event inspired by the short informational conferences known as TED Talks.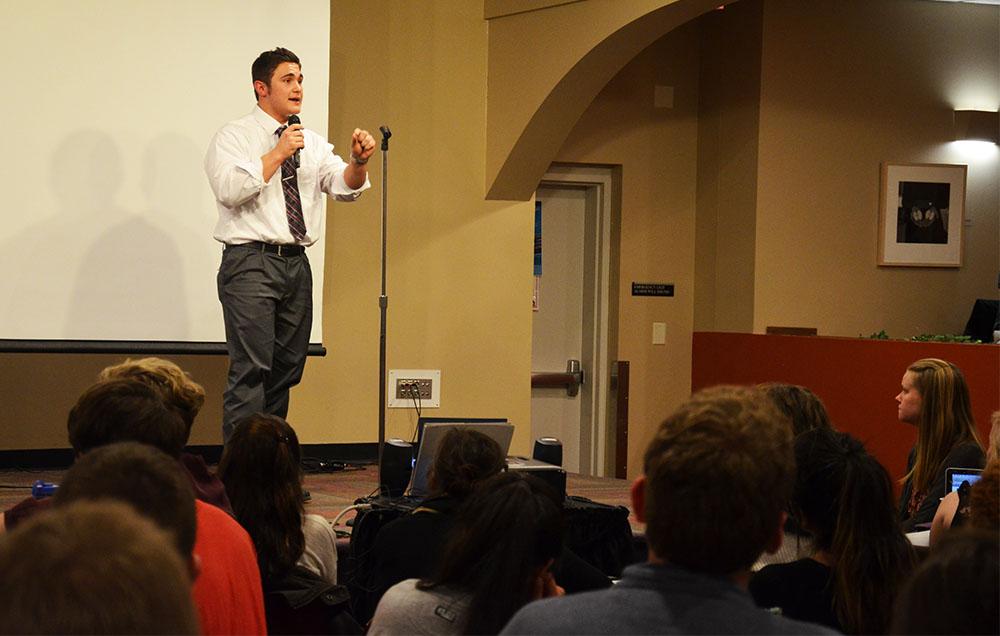 "Panorama is the sharing of ideas and passions on a college campus," said Natalie Gaviria, junior social work major and creator of Panorama. "It is something that is going to be unique to Appalachian."
Seven students gave rehearsed speeches and lectures over the course of the night, speaking on subjects they were passionate about. The speeches covered topics such as positivity, masculinity and motivation.
"We've all seen TED Talks before and they're really inspiring and they're great outlets for people to get ideas out there and build off of them," senior communications studies major and Panorama speaker Abbie Morrissey said. "For a college atmosphere, this is an incredible outlet. We could accomplish so much if more people were to participate."
Morrissey gave a speech about using technology in the classroom at the beginning of the evening.
The event was created and planned earlier in the year by Gaviria and senior public relations major Shady Kimzey.
"We partnered with SGA because we knew we wanted it to be something that was long standing at the university and we knew they could help," senior political science major Emily Oswalt said. "We hope that they can take what we've created and pass it down in the future."
Oswalt ran a live Twitter feed for Panorama during the event on @asupanorma and encouraged audience members to tweet about what they liked and what they were inspired by.
Gaviria said she thinks it's important to have events like these on campus.
"I really hope audience members gained a new perspective," Gaviria said. "[I hope] that they thought of something that they've never thought of before, that they want to make new connections and were inspired to do something with those thoughts."
Gaviria said the seven speeches were filmed throughout the course of the night and will be up on YouTube for public viewing in the future.
Story by Casey Suglia, Intern A&E Reporter
Photo: Maggie Cozens, Associate Photo Editor