Peacock steps down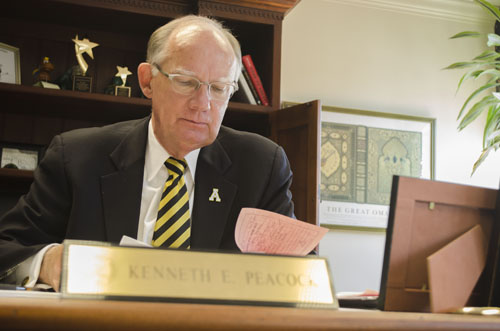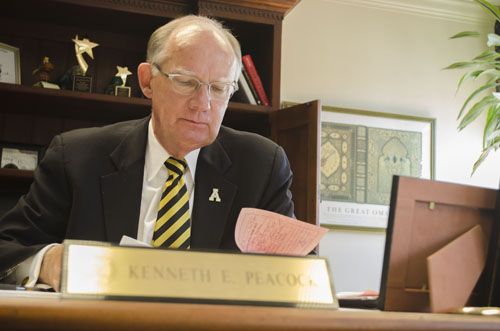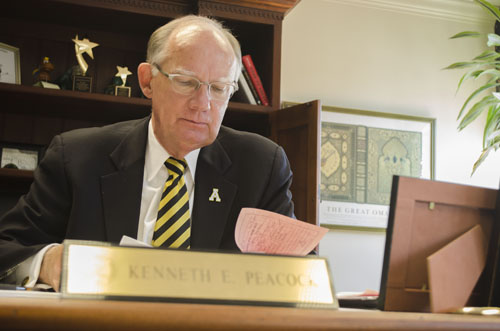 Chancellor Kenneth Peacock announced Thursday that after nine years as chancellor of Appalachian State University, he is stepping down from his position.
"The chancellor's decision was made by him, with his family after thoughtful and considerable personal deliberation," according to an email from The Board of Trustees of Appalachian.
The chancellor will continue in his current position until a successor is identified and hired.
During this transition, the Board of Trustees will support the chancellor and his leadership cabinet and will work with the
Appalachian community and the UNC system to launch a comprehensive search process for the chancellor's successor.
President of the UNC system Thomas Ross said the search could take until the end of the next academic year, bringing Peacock's term as chancellor to 10 years.
A search committee will be formed within the next couple of weeks, and the search for the next chancellor will take place this summer and next fall as well, Ross said.
There will be an open national search, and Ross is confident it will attract a lot of great people, he said.
Ross said he is sad to see Peacock go and that he will be hard to replace.
Peacock on leaving
"All good things must come to an end, you just don't know when, but they must all come to an end," Peacock said.
While making the decision to step down, Peacock considered the 10-year plan to expand the university, the Strategic Plan that has been developed, the SACS accreditation being completed and the fact that it is close to the end of the comprehensive campaign, he said.
With these factors, combined with his personal reasons, Peacock said he realized that "this is probably the time."
"My son said to me, 'When is it our turn?'" Peacock said. "This is a job that requires [a lot], it's all day, every day. There's no such things as holidays, there's no such things as vacations."
But Peacock said he has loved this job and even though his job title and responsibilities will change, he will never leave Appalachian.
"I will be here to support Appalachian – to support the new leader – so that's not going to change," Peacock said. "It just seemed that the more I talked to my family, the more I talked to my spouse, I began to see what's right."
Peacock said he is most proud of his impact on students' lives and the opportunity to meet incredible young people.
"We've built a lot of things, but that's not what makes Appalachian what it is," Peacock said. "This campus, I think, has a way of touching the lives of students. It has reminded me too that we need to slow down sometimes and take time to just show and demonstrate the kind caring people that we are. It's here on this campus, I see it, I've felt it and I've lived it."
Peacock said he will miss being on Appalachian's campus, and his interactions with students.
"I will miss the times that students have been up to the house to celebrate special events in their life," Peacock said.
Whether it was President Barack Obama's first election win, news of Osama Bin Laden in May 2011 or when there were football game victories, Peacock said he is grateful the students shared those memories.
"They came to share that with me too," Peacock said. "That will be missed, but I've got a memory of it."
Peacock said after a replacement is found he plans to spend two months without professional responsibilities.
"I want two months that I can sit and read some history books," Peacock said. "I'm a Thomas Jefferson nut. I read for Appalachian now, I want to read for Ken. I think its time to read for Ken."
Peacock said he also plans to spend time with his family.
"I do have two wonderful sons who are married and I have wonderful daughters-in-law, each with a grandchild and a third one on the way, so I want to spend some more time with them," he said.
Peacock said that although he will miss Appalachian, he thinks this is the right time to leave.
"It's the right time that I leave with such wonderful, rich, heartwarming memories, such plans, and you know this place will always have a special place in my heart," he said.
However, Peacock said he will not be a "lame duck" chancellor.
"There are things to do, there's work to be done and I plan to get it done and I will work as hard as I can for the advancement of this institution until the new person arrives and they will take over and they will just launch it, I am confident."
Administration reaction
Vice Chancellor for Student Development Cindy Wallace said that her first thought after the chancellor's announcement was concern.
"I think he is absolutely making the right decision," Wallace said. "I think being a chancellor in this day and time is a remarkably complex and stressful job and this is his ninth year."
Wallace said that although she is sad, Appalachian is ready to push on.
"I feel confident in our future and it's just going to be a really important time of transition, and that's what every campus goes through," Wallace said. "It's been nine really good years."
Wallace believes Appalachian will be involved in supporting the search for the next chancellor, and that Peacock will continue to work around the clock for Appalachian.
"I know how much he is respected and quite frankly, I think the correct word from my perspective in student development is he is loved by our students, it's not just respect from the student population – he is loved," Wallace said.
Associate Vice Chancellor for Student Development Dino DiBernardi said the hallmark of Peacock's leadership has been his focus on the students and his focus on what's best for Appalachian.
"He gave his all and then some and he will continue to give his all and then some," DiBernardi said.
Provost and Executive Vice Chancellor Lori Gonzalez said that any decision comes with challenges and uncertainties.
"Our chancellor loves a challenge, and I look forward to seeing how he embraces the new possibilities," Gonzalez said. "Appalachian has a bright future due to the hard work done by our faculty, staff and students under the leadership of Ken Peacock."
Vice Provost of Faculty Affairs Tony Carey said that Peacock would be remembered for his connection with both the students and the university.
"[He] will always be remembered for his close connection to and deep concern for students," Carey said. "His work on the Campaign for Appalachian has been tireless and effective, providing a base of resources upon which the university can build in the future."
Story: STEPHANIE SANSOUCY, Senior News Reporter
Photo: MICHAEL BRAGG, Editor-in-Chief