Picking up the pieces
Keep the offense clicking
Although App State has had a hard time stringing together wins of late, the offense is not to blame for the slump.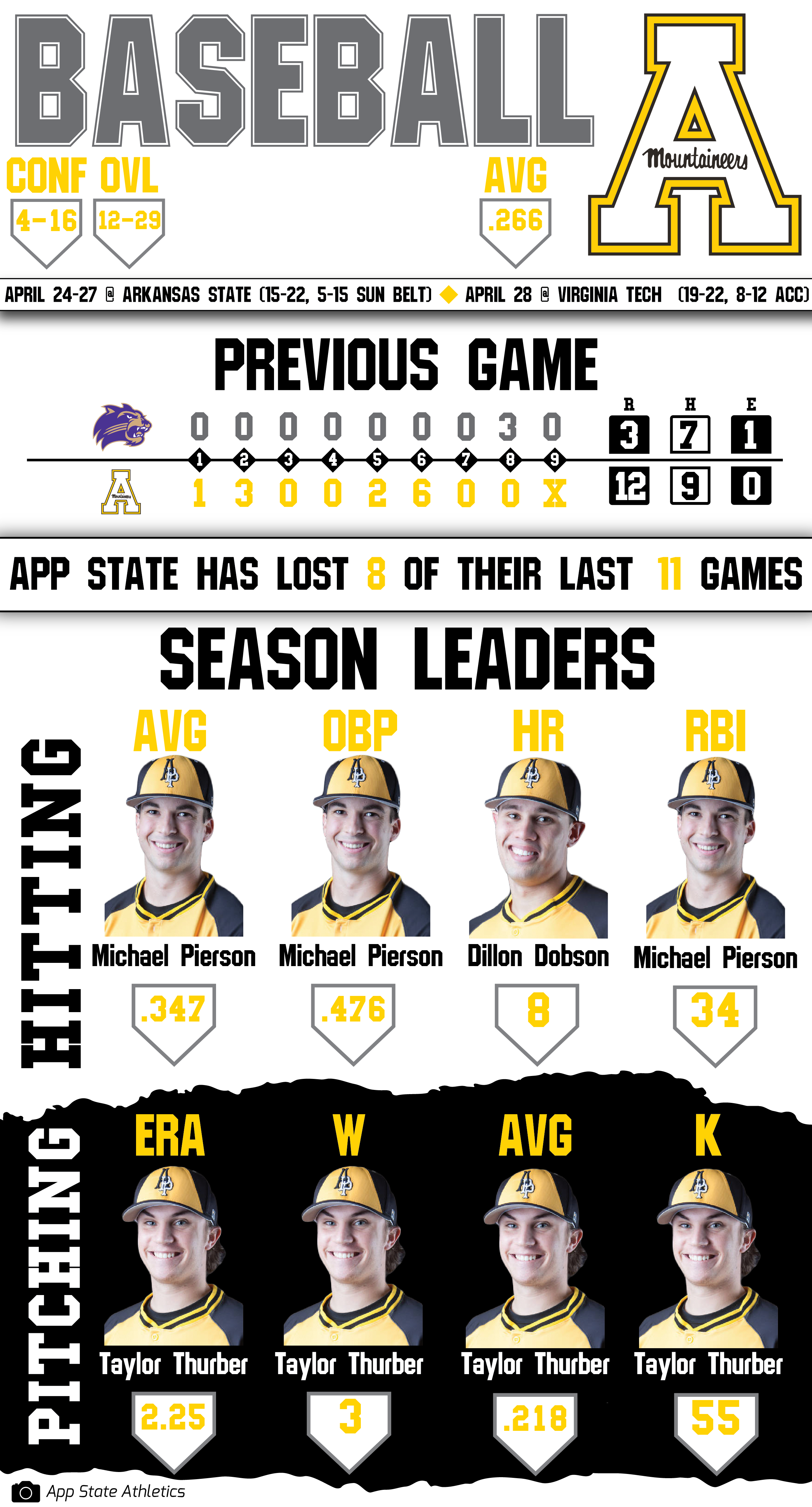 Less than a week ago, the Mountaineers exploded for 17 hits and 13 runs in a loss against Georgia State, setting season-high marks in those respective categories.
On Tuesday, the Mountaineers again caught fire offensively, scoring 15 runs in a losing effort to Western Carolina.
If App State continues this trend over the weekend, only a slight defensive improvement may be necessary to start translating their offensive production into wins.
When it rains, it pours
Despite recent impressive offensive performances, perhaps no factor has contributed more to the Mountaineer's struggles than allowing big innings.
In the month of April, App State has allowed teams to pour it on offensively, giving up five or more runs in a single inning on multiple occasions.
On Tuesday, they gave up nine runs in the third inning against Western Carolina.
Georgia State scored six runs in the eighth inning in game two of a doubleheader April 18 and  South Alabama scored five runs in an inning twice in a weekend series April 10-11.
The Mountaineers lost all of these games by a combined score of 52 to 33.
A coincidence? Unlikely.
Finish the fight
If the Mountaineers find themselves in the late innings of a close game this weekend, they will seek to disprove the old mantra that past performance is the best indicator of future performance, and win based on their late-game performance.
The Mountaineers have surrendered 34 eighth-inning runs and 30 ninth-inning runs on the year, while only mustering 33 total runs over both innings combined.
Confidence late in games may have an impact on the outcome of this series.
Story: Chris Warner, Sports Reporter
Infographic: Malik Rahili, Visual Managing Editor