Plant-based cafe finds new roots on King Street
Exotic aromas and quiet music fill the air in the cozily lit and colorfully decorated cafe. Seated in comfortable spaces around the room, customers engage in relaxed conversation over tea and bowls, which are often just as colorful as the room that surrounds them.
This is Rooted on King, a plant-based cafe with an emphasis on healthy food, touches of international flavor and close community ties. 
Located on the top floor of 659 W. King St., the cafe opened its doors for the first time Feb. 3 and can be accessed by the stairs on King Street or the outside stairs behind the building. They are open from 11 a.m.-2:30 p.m. Wednesday through Saturday.
"Our name, Rooted on King, is part of that: rooted in community and rooted in the history of this town, of downtown," said Valerie Midgett, owner of Rooted on King. "But it also means rooted in the foods that we're serving. We're serving a lot of whole root vegetables. We even have a Rooted Bowl, and there's other aspects to that name, Rooted, that are probably even more related to yoga."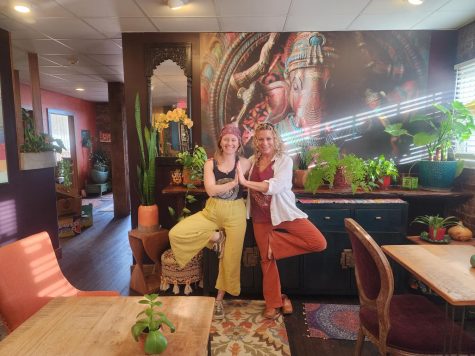 The cafe shares a space with Neighborhood Yoga, a business also owned by Midgett which has been at its current location on the top floor of The Shoppes at Farmers for seven years. She said both businesses emphasize a balanced lifestyle, which is one of Rooted on King's core values.
"We really feel that healthy food is a part of a healthy lifestyle and a healthy community, all of that," Midgett said. "And we address it, the physical body, through yoga, and the mental body, but we also want to do that through nourishment, so we want to bring whole foods, intentionally sourced, to our community."
Midgett said Rooted on King's mission to "intentionally source" their food includes buying from local farmers and vendors whenever possible.
"We're buying intentionally from these companies, from organic companies as much as we can and regionally as much as we can, trying to not have things shipped across the country," Midgett said.
In addition to being health-conscious, the cafe's food also incorporates elements of other cultures. Dishes include the Costa Rican-inspired Pura Vida Bowl, the Asian-inspired Buddha Belly Bowl, the Indian-inspired Masala Chai Tea and Moroccan Mint Tea.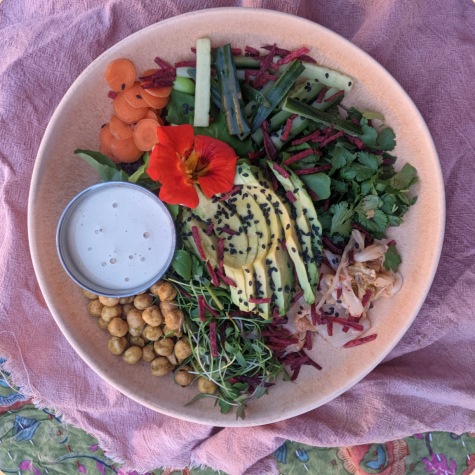 Kitchen manager and chef Ahimsa Izlar said that both she and Midgett have found inspiration for many of their culinary ideas in their travels around the world.
"It was almost like 'I want to somehow capture this,'" Izlar said. "'I want to capture that. I want to bring these cultures and the flavors and India and Costa Rica and all these different ones.'"
Among Rooted on King's menu offerings is the Balsamic Berry Grilled Cheese, which Izlar said has been very popular due to its unique name and purple bread.
"It's like a twist on a childhood classic," Izlar said. 
Midgett said the cafe's establishment was not widely announced or advertised prior to its opening, but it has nevertheless been busy and well-received.
"We were overflowing with the response of how many people showed up to support us on the first day," Midgett said. "There were people from the yoga community, the downtown community and the ASU community all coming together, which was my intention in the first place."
In addition to serving as a common space for various communities within Boone, Midgett said she hopes customers will be able to take advantage of both the cafe and the yoga studio during their visits. Neighborhood Yoga offers donation-based classes at noon from Wednesday to Saturday, during which Rooted on King is also open.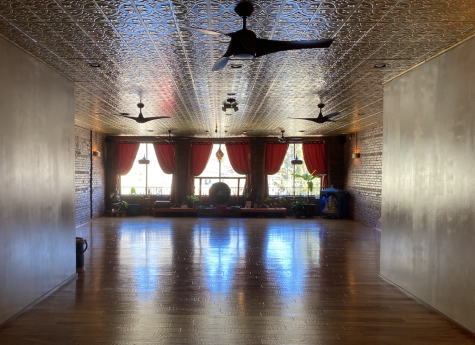 "We ask a $5 donation," Midgett said. "We don't turn anybody away, and those donations go to help support our Yoga for All Scholarship, where we provide scholarships in the community for people that might not otherwise be able to participate. And so those classes meet at noon and our hope, a little bit, is that people could take a noon yoga class, grab a bowl and be back at their office or back in their class within roughly an hour."
Throughout opening day, reception among the cafe's patrons was very positive.
"I had avocado toast and it was incredible," customer Allise Whitworth said. "Somehow it was a beet puree underneath with the avocado. I don't know how they did it but it was really good. The chai is fantastic."
Customers also spoke about the establishment's atmosphere and its relaxing nature.
"It's a super cozy atmosphere," customer Berry Glover said. "Like I just love everything, and it's delicious too."