Polar Plunge at Duck Pond raises more than $8,000
More than 100 Appalachian State University students and members of the Boone community made the jump into 35-degree water for the 16th annual Polar Plunge on Thursday at Duck Pond.
A total of $8,009.49 was raised for the Watauga County Special Olympics at the Polar Plunge, an increase from last year's $6,881 total. The 120 plungers were a slight decrease from last year's 142 participants.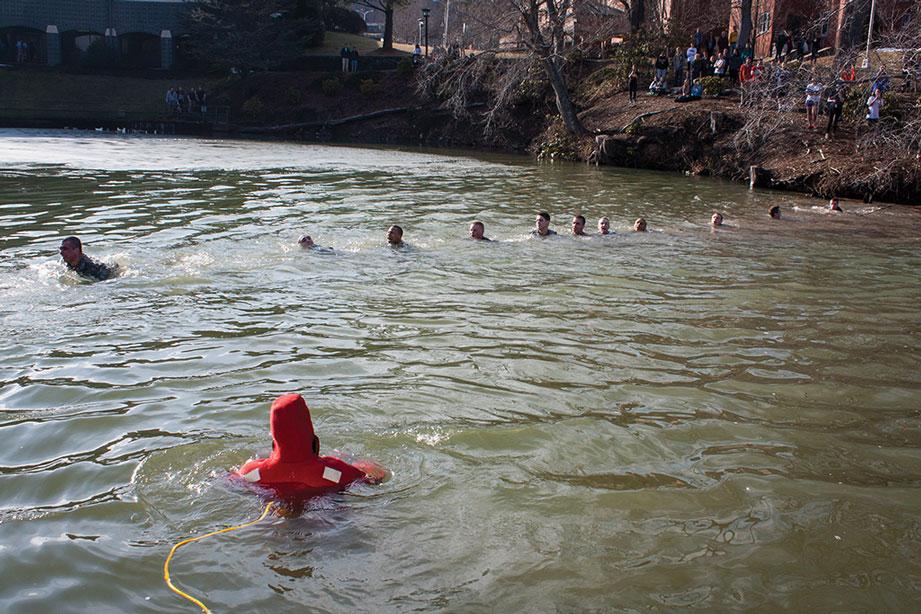 The campus police, who have participated in the fundraiser for the previous 15 years, were at the event.
"All of the Polar Plunges are a success in my eyes," ASU Police Chief Gunther Doerr said. "It's money we raise that stays in the local area. It has sort of become a tradition at Appalachian that we do this every year."
The top fundraising group was ASU ROTC, which raised $1,520.
Donations from the plungers added up to $1,447.80. The top fundraising individual was John Shaw, who raised $220.
Shaw, who is from Ashe County and fills Pepsi machines on campus, donated the first $100 he raised to the Polar Plunge and split the remaining amount equally between the plunge and a mission trip fund. Shaw was also the winner of the "Biggest Splash" contest.
Corporate sponsors contributed $3,660 of the funds raised. The sponsors were a mix of local businesses and large companies, which included Tweetsie Railroad, Papa John's, Capone's Pizza, Anna Banana's and Tanger Outlet.
A barbecue was also hosted by Roachel Laney, assistant professor in the Department of of Health, Leisure and Exercise Science, to benefit the cause and managed to raise $1,381.69.
Junior international business major Blake Wilkinson said when he toured Appalachian on his college visit he chose this university because he heard about the annual Polar Plunge.
"It was the reason I came here to Appalachian State, the Duck Pond event, I knew it was something I was going to be doing," Wilkinson said. "Also, I saw how wonderful the community was and how happy and inviting people on campus were."
Mason Morris, a freshman middle grades education major, dressed up as Buzz Lightyear and received one of the "Most Extreme" costume awards.
"I am a future teacher and I wanted to help out Special Olympics by participating in the Polar Plunge," Morris said. "I want to help people pursue their dream and see them become successful."
Story: Nicole Caporaso, News Reporter
Photo: Rachel Krauza, Staff Photographer