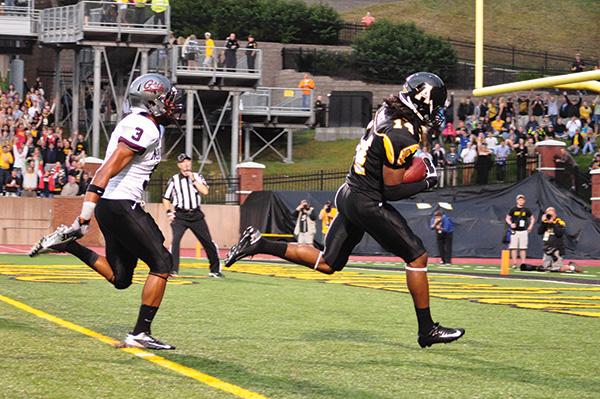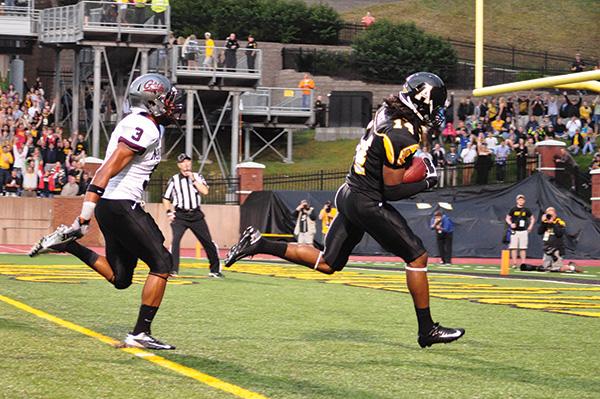 Former wide receiver Sean Price cut from football program Sunday
Former redshirt sophomore wide receiver Sean Price was dismissed from Appalachian State's football team Sunday following his arrest early the same morning.
Price, 20, was arrested at 1:38 a.m. at Darby Court in Boone near the N.C. 105 Bypass and U.S. 421 intersection. Charges against Price include felony assault by strangulation, misdemeanor intoxicated and disruptive behavior and misdemeanor resisting a public officer, according to a Watauga County Sheriff's office arrest report.
Price was released from the Watauga County jail at 4:58 p.m. Monday, according to the sheriff's office. Price was held on a $20,000 secured bond and has a court date set for Nov. 21.
Head coach Scott Satterfield said Price was cut from the program citing "repeated violations of team rules."
"No player in our program, regardless of how talented he is, is above our team, our university or our community," Satterfield said in a statement. "Repeated behavior that does not meet the high standards that we hold our student-athletes to will not be
tolerated."
Price was suspended for a violation of team rules twice in as many seasons, once under coach Jerry Moore in the 2012 season, and again this season, each time missing two games.
Price caught 20 passes for 237 yards and one touchdown in four games this season. In his two years with App State football, Price has caught 102 passes for 1,439 yards and nine touchdowns.
In his first season, Price was named National co-Freshman of the Year by College Sports Journal, Southern Conference Freshman of the Year and first-team all-conference by the league's coaches and media, according to appstatesports.com
Price was also ranked 21 of 300 wide receivers in the 2016 draft class, according to nfldraftscout.com.
The university will not comment any further on the situation, according to the statement released Sunday.
Story: STAFF REPORTS
File Photo, The Appalachian