Prisoner No. 34042: Susan Cernyak-Spatz survives Holocaust with realism, not faith
Only 85 years ago, millions of Jewish people were persecuted and murdered in the Holocaust, one of the most memorable genocides in the world. Susan Cernyak-Spatz remembers it vividly. She went through it.
Cernyak-Spatz, 96, came to App State Tuesday night to discuss life in the infamous concentration camp Auschwitz-Birkenau, as well as combating neo-nazism today. Many students were turned away from the presentation because Table Rock Room reached full capacity.
Thomas Pegelow Kaplan, director of Judaic, Holocaust and Peace studies, began the presentation by addressing hate App State recently experienced and how the community should stand up against it.
"It's a long stream of incidents and unfortunately that will very likely be more to come, involving hate and Nazi speech, which cannot be of course tolerated or accepted or met its complacency," Kaplan said. Kaplan also mentioned how the event was a great way to respond to this hate.
Sarah Pulmutter, a member of the Peace and Genocide club, introduced Cernyak-Spatz and touched on the importance of Holocaust survivors before playing a video of Cernyak-Spatz in an interview.
"We wanted to bring Dr. Spatz back to campus because she is not only a survivor, but a teacher and an academic who went on to work in areas close related to the horror she experienced in the Holocaust," Pulmutter said. "We should speak to as many of these survivors that we can, as many of the Holocaust survivors are already deceased. In a matter of years, there will be no one left."
The video played before Cernyak-Spatz's open-ended conversation with the audience. It described her experience preparing to live, and living, in the deadliest concentration camp of the Holocaust.
Cernyak-Spatz said she grew up as an assimilated, middle-class Jew. Her family considered themselves as typical Europeans, not Jews. This all changed when Hitler came to power.
"Life looked good, but there was one man who ruined it all," Cernyak-Spatz said at the talk.
Separated from her father and with very few belongings, Cernyak-Spatz headed to a place where wooden clogs were worn with infection, where bowels were dumped from top bunks, and where the smell of death lingered.
"The first thing when you walk out there… you get that stink in the face," Cernyak-Spatz said in the video, describing her first thoughts when faced with the crematorium. "It's indescribable really; two flames shooting up in the sky."
After the video, Cernyak-Spatz came out to answer questions from students and the public, starting off the conversation pushing students to embrace and appreciate the opportunity to speak with a first-hand witness of the Holocaust.
"If we forget the past, we are condemned to repeat it," Cernyak-Spatz said. "Please ask what you want to know because I don't, frankly, without bragging, think you'll have very many more opportunities to speak with a survivor. The remaining survivors are getting very thin."  
When one student asked Cernyak-Spatz what gave her hope in the concentration camp, she emphasized how realism got her through the nightmare she faced every day.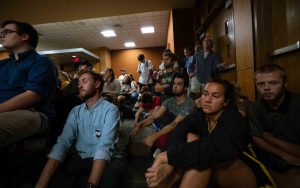 "There was only one possibility: go from one minute to the next, go from one day to the next, to stay alive," Cernyak-Spatz said. "You couldn't form any hope idea or ideology or religion. Nothing could help you but your only will to survive".
When one twelve-year-old boy asked Cernyak-Spatz what he could do to prevent the Holocaust from ever happening again, Cernyak-Spatz responded with advice for the audience.
"What all of you have to do is keep the history alive, don't let the world forget what was done," Cernyak-Spatz said. "Do your best to be a human being."
Cernyak-Spatz said she also does not know why neo-Nazism still exists today. Cernyak-Spatz asked the audience, puzzled, why the movement exists even in Boone. The room was silent.
After the last question was answered, Cernyak-Spatz received a standing ovation and was thanked by many.
Anna Rau, sophomore double major in anthropology and Spanish, was inspired to listen to Cernyak-Spatz speak after visiting the Holocaust Museum in D.C. and is said she was thankful to have witnessed a survivor speak, relating it to her roots of Guatemalan genocide.
"You read it in the books, and you learn about it in school, but listening to survivors speak, it just really shows it actually happened," Rau said. "It was life-altering to hear her."
Sonoma Dixon, sophomore business management major, came to see Cernyak-Spatz to get more information about the time period her grandmother lived in and left touched by her story of survival.
"She's incredible. I cried four times during the presentation," Dixon said. "Just having the opportunity to come to this was incredible. Being able to talk to her and learning about the Holocaust directly from somebody who was involved in it is once in a lifetime."
Story by Emily Broyles 
Photos by Hayley Canal
Featured photo caption: A student speaks intimately with Holocaust survivor, Dr. S. Cernyak-Spatz, Tuesday evening.