The road hasn't been completely smooth for John Law since committing to App State out of Grady High School in Atlanta in 2012.
The sophomore linebacker played just three games his freshman season before suffering a freak ankle injury while exiting the team bus in Chattanooga, which forced him to miss the rest of the season. Law received a medical redshirt from the NCAA and was listed as a redshirt freshman coming into the 2013 season.
Law appeared in all 12 games in 2013 and ranked third on the team in tackles with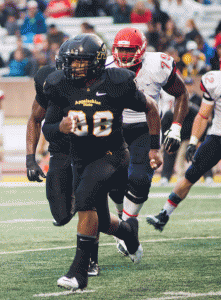 71 and was tied for the Southern Conference lead in interceptions with three. He made the all-SoCon freshman team and was the first App State freshman to have three straight double-digit tackle games since former App State linebacker DJ Smith.
Despite Law's breakout freshman season, he was limited through nine games of the second half of the season because of nagging injuries.
After finally getting back to his full health, Law came into this season in top condition, ready to make his presence felt on the field.
In fact, Law said the adversity has helped him put the opportunity to play in perspective.
"I feel like the injuries were something that really shaped me," Law said. "It was something I had to deal with and I had to really learn how to wait my turn."
Law leads the team this season with 62 tackles through the team's first eight games and has become the leader of App State's defense after starting every game this season. Junior defensive back Doug Middleton said the Mountaineers have followed Law along the path to getting better.
"He is just a guy who is a leader," Middleton said. "Everything he does – he leads the guys and gets everybody to follow. He plays fast and gets us going."
Middleton said while Law is all business on the field, he has a funny side that allows the team to relax and laugh from time to time.
"He is a class clown and funny," Middleton said. "He is serious when it is time to go to work."
Defensive coordinator Nate Woody said having Law at 100 percent has been a huge boost for the team.
"John is one of the guys everyone looks up to," Woody said. "He has a demeanor that he is going to get it done and has the right answer for himself and it rubs off on the players, as well."
Law said he feels that the injuries have not only helped him grow, but have improved him as player by being fully healthy for the first time in his career.
"Being healthy means everything to me," Law said. "It gives me a chance to be out there and give my full effort."
Now that his health is consistent, Law has big goals for himself and the team.
"I want try to lead the team, conference and nation in tackles," Law said. "I want to give my all out there and give the team the best chance to win."
However, for Law, the desire to win takes importance over any other individual accolade.
"App State has a winning tradition and that is all I saw when I came here," Law said. "My biggest goal is winning."
Story: Jason Huber, Intern Sports Reporter
Photo: Cara Croom, Photographer