Rachel Gallardo, senior nutrition and foods major, was crowned the Top of the Rock during halftime of the App State vs. South Alabama football game.
"I won it in high school and it was crazy and it's even crazier now because out of 19,000 people you're the one," Rachel Gallardo said. "I'm so thankful."
Chancellor Sheri Everts crowned Rachel Gallardo on the field and embraced her.
Rachel Gallardo was the representative from the College Diabetes Network: Broken Pancreas Club, for which she is the treasurer.
"The main goal of the club is to create a community at Appalachian State of diabetics and their allies that can support one another, and come together to help other people affected by diabetes," Wheeler Davis, vice president of CDN and sophomore biology student, said in an email.
Davis started the club with his girlfriend, Abby Pepper, senior political science major, freshman year when they realized there was no community for diabetics on campus.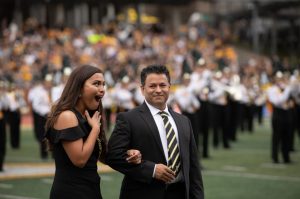 Rachel Gallardo said the organization educates and advocates for college students with Type 1 and Type 2 diabetes.
"We are here to set up a support network," Rachel Gallardo said. "You can go somewhere and look at someone and you know exactly what they are going through."
Although the nomination meant CDN won homecoming points, that's not why Rachel Gallardo wanted to run.
"We can really make our club be known and be heard," Rachel Gallardo said. "I really wanted to be the megaphone for this organization."
Rachel Gallardo was diagnosed with Type 1 diabetes at 3 1/2 years old.
"This December will be 18 years. It's a struggle," Rachel Gallardo said. "I've had to learn how to advocate for myself growing up so I really like being a part of this organization. We can help teach newly diagnosed diabetics and help create a support network."
Rachel Gallardo stood next to her dad, Juse Gallardo, as she was announced as the Top of the Rock winner.
Juse Gallardo said he was proud of her and that it was almost a crying moment for him. He came home three days early from a business trip in Italy to be there.
Her mom, Donna Gallardo, was standing on the sideline when Rachel Gallardo was announced the winner.
"It's extra special because I'm a 1989 grad," Donna Gallardo said. "I just couldn't believe it. It was like it happened, but is this real?"
Donna Gallardo said she took off running down the sideline when it was announced even though she said she does not run.
"As well as being the treasurer of our club, she also works for the wrestling team, is a senior nutrition major, a percussionist for the marching band, and she does it all while living with Type 1 diabetes," Davis said in an email. "She is the perfect example of how diabetes can't stop you from achieving your goals."
Story by Moss Brennan
Photos by Chase Reynolds, University Communications
Featured photo caption: Rachel Gallardo, 2018's Top of the Rock Recipient. Gallardo was honored at Saturday's homecoming football game.