On Jan. 23, HOW Space welcomed a new exhibition titled "Radical Feminists," a multimedia gallery featuring the work of sixteen female students and artists.
The exhibition, curated by senior art and visual culture major Mellanee Goodman, explores feminism as a political movement and celebrates the artistic ability of women, especially women of color.
Goodman said she intended for the exhibit to shed light on communities often left unnoticed in the art world, specifically women and women of color.
"I realized that there was a huge gap of people missing in the community that aren't shown here," Goodman said. "Being in Boone for six years and being at App and really involved in the art community for three years, I realized going to multiple shows over the years that there's only a specific group of people always shown, always praised and given the utmost respect for their artwork and looked at as the artists that represent the community."
Goodman said her own experiences as a black woman in Boone's rural setting prompted her to curate the exhibition but also made her hesitant.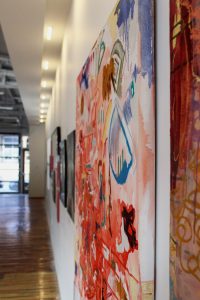 "Being me, a black woman curator in the town of Boone, is very scary because there aren't a lot of me around," Goodman said. "When I first wanted to produce the show, I was really hesitant about it. I didn't know if there was going to be backlash. But I knew so many women of color around here were hurting and struggling because of the racism and marginalization that we feel. I just didn't let the fear get in the way. I really wanted to make a statement with this show."
Goodman also took on the exhibition in the hopes of discussing negative stigmas about women of color in the art world. Goodman expressed that women of color are "extremely marginalized and underrepresented," and that oftentimes, their voices go unheard.
"I don't want to speak for all women of color, but I know that for myself in this show, I wanted to show that there's more than just the superficial idea of what women of color are like," Goodman said. "We can produce art, we're intelligent and we're as creative as the white men that are in the books we're taught and shown repetitively in this community. We're here to say something."
Juliet Irving, a senior graphic design major, is featuring her multimedia piece "Glimpses" in the exhibition.
"Glimpses" is composed of three small boxes fitted with lenses. When viewers look inside, they see real plant leaves and branches overlaying a miniature screen. On screen, clips of the forest and Irving dancing play on a loop.
Irving found her inspiration for the piece when studying abroad in Australia. Irving was trying to assemble a phone and a shoebox into a do-it-yourself projector. When she peered inside the box's lens, Irving found a more unique take on the projector.
The clips, plants and sounds featured in Irving's shoebox theaters were collected through daily observations the artist made.
"I titled it 'Glimpses' because I wanted it to be little moments that I've experienced," Irving said. "I like to do little observations throughout the day, like I record sounds like leaves blowing in the wind. I wanted to recreate that in the boxes so it's moments of myself as a black woman, which is why I wanted to put myself in there dancing, because you don't often see even our skin color shown in artwork. I wanted it to be something where people could observe pieces of myself and me being a little bit vulnerable, but also where people could kind of see themselves in it or recognize something in the plants or sounds."
The plant fragments in the boxes, Irving added, were taken from her plant Juanita, named after her great-aunt. Irving sought to use the plants to express the connection between humans and nature.
"I wanted to include that so badly because nature is kind of part of who we are, and it's something that we tend to ignore throughout our days," Irving said. "I wanted that to be an overlay, what you have to see through to see a person."
Raven Moffett and Felicia Sutton, senior art and visual culture majors, contributed numerous individual and collaborative pieces to the exhibition.
The couple's works in the show include photography, videography and acrylic.
Moffett's "Sex Object" uses a series of photos to illustrate increasing violence against women, while the subject's hair is moved between pictures to spell out the words "sex object." The piece, Moffett said, discusses the sexualization of women and the concept of hair as a marker of femininity.
"I was thinking a lot about my hair, and the more I looked at it, the more it looked like a marker of my sexual object-ness," Moffett said. "It was sad because I loved my long hair, but it also felt like something I was complicit in because it made up so much of my identity when I looked at myself in the mirror."
In the photos, Moffett poses as a woman subject to increasing physical violence; as the photos progress, her eyes close and bruises and blood scatter her face.
"This image is making manifest the degradation and making physical the emotional and psychological abuse that comes with assumptions that come with markers of femininity such as long hair," Moffett said.
After taking the series of photos, Moffett cut her hair to her chin, a move that conflicted with her Native heritage.
"I cut my hair," Moffett said. "My work deals a lot with my identity as a Native woman, as a biracial Native woman, as a white-passing Native woman, as a queer woman and also as a woman, primarily, made to be a sex object. In different Native cultures the hair has a certain significance and I was thinking of what it meant to me in a contemporary Western setting, particularly with what was going on with statements from Trump and the media."
In another photo piece, "Man Eater," Moffett poses nude, blood dripping from her lips and an animal skull adorning her head. The piece formed the beginnings of her senior capstone work. The full collection will be featured in a show at the Looking Glass Gallery on April 6.
"It's more about being a white-passing Native woman, so I did this documentation of myself playing roles of the primitive savage," Moffett said.
Sutton and Moffett also worked together to some extent on another piece in the show, a video titled "Cake." The video will be featured at the reception. Sutton filmed and edited the film's content while Moffett acted.
"I kind of wanted to address the weird relationship that women in popular culture have with food," Sutton said. "There's this conception that women are almost consumable in a way. A lot of times in advertising and popular media, there are a lot of metaphors between women and consumable objects. I think there's also this impetus to not consume, to be physically small and thin, but also to just not take up much space or be assertive."
Sutton and Moffett had not intended to collaborate on either of the pieces. The couple lives together, and Moffett said their shared workspace and common ideologies lead them to frequently bounce ideas off one another.
"Sometimes, especially when you're close to someone and share a lot of the same ideas and sentiments about things, it happens organically," Sutton said. "You have to let the work guide you."
The exhibition will be available to the public through Feb. 2. On Feb. 2, HOW Space will be holding a reception at 6 p.m., where Sutton's film "Cake" will be premiered.
Story by: Ashley Goodman, A&E Editor
Photos by: Mickey Hutchings, Staff Photographer
Featured Photo Caption: "White. I wanted to be White" by Saleen Vang. Vang's portraits are a part of the Radical Feminist art show on display at the HOW Space until Feb. 2.