A steady downfall of rain Saturday morning didn't keep Appalachian State football from holding its final scrimmage before the annual spring game.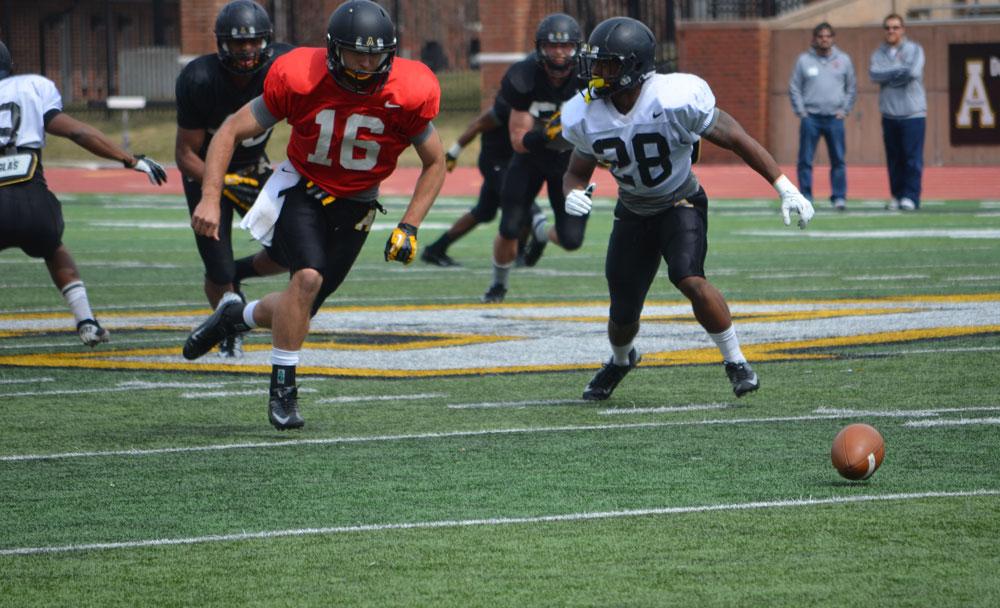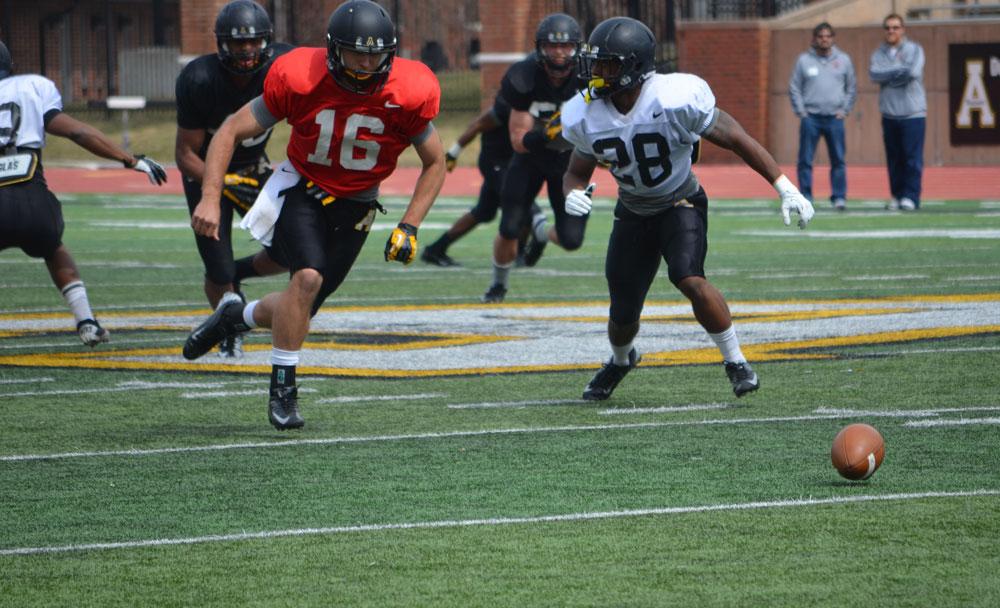 Head coach Scott Satterfield said that the decision was made to leave the practice outdoors despite the rain to evaluate his squad's ability to cope with the elements.
The Mountaineers participated in 24 series during the scrimmage and did not commit any turnovers.
"The backs and receivers held on to the ball really well in this weather," Satterfield said. "We may have to play a game or two in this next fall, and these guys did a good job with it."
Junior running back Eric Davidson ran for two touchdowns, including a 64-yard run for a score, and junior quarterback Kameron Bryant looked sharp as he tossed a six-yard touchdown pass to sophomore tight end Jacob McCann on a third-and-goal play as well as an 18-yard touchdown pass to junior wide receiver Simms McElfresh.
Junior kicker Zach Matics drilled field goals from 42 and 37 yards out.
Redshirt freshman running back Terrence Upshaw looked comfortable carrying the ball, rushing for 64 yards.
"It went good despite the rain," Upshaw said. "We're trying to speed it up and get a faster tempo. The final four practices are all about correcting all the mistakes before the spring game, learning the plays and getting all of our steps right."
The Mountaineers played a physical style of defense, notching seven sacks, 15 tackles for a loss and four pass breakups.
Satterfield said the physicality of scrimmages generally ramps up toward the end of the spring schedule.
The water-logged Mountaineers had a couple of heated scuffles after the end of plays, something Satterfield said is normal after a long grind of practices.
"You battle against each other every day, and you're going to have a little of that," Satterfield said. "You're going to have a little bit of that when these guys have been banging each other all spring."
Satterfield said the focus now is on playing a solid spring game to close out the spring practice schedule.
"I want the spring game to be a fun day and not sloppy," Satterfield said. "We have to eliminate the mental errors, and I think we did a better job today than in the first scrimmage. We'll finish that up Friday night."
App State's annual spring game takes place at Kidd Brewer Stadium on Friday at 7 p.m. Admission is free.
Story and photo: Cory Spiers, Sports Editor