Rapid Reaction: App State 14, Michigan 52
Rapid reactions to App State's (0-1) rematch with Michigan (1-0) at Michigan Stadium. There was a lot of bad in the loss at The Big House, but the Mountaineers did a very few good things in the non-conference opener to give fans hope for the remainder of the season.
The good
The Mountaineers saw freshman running back Terrence Upshaw run hard finishing with 109 yards on 18 carries. Sophomore Marcus Cox also seemed in good shape having packed on 15 pounds over the offseason. Cox reached 47 yards on 11 carries.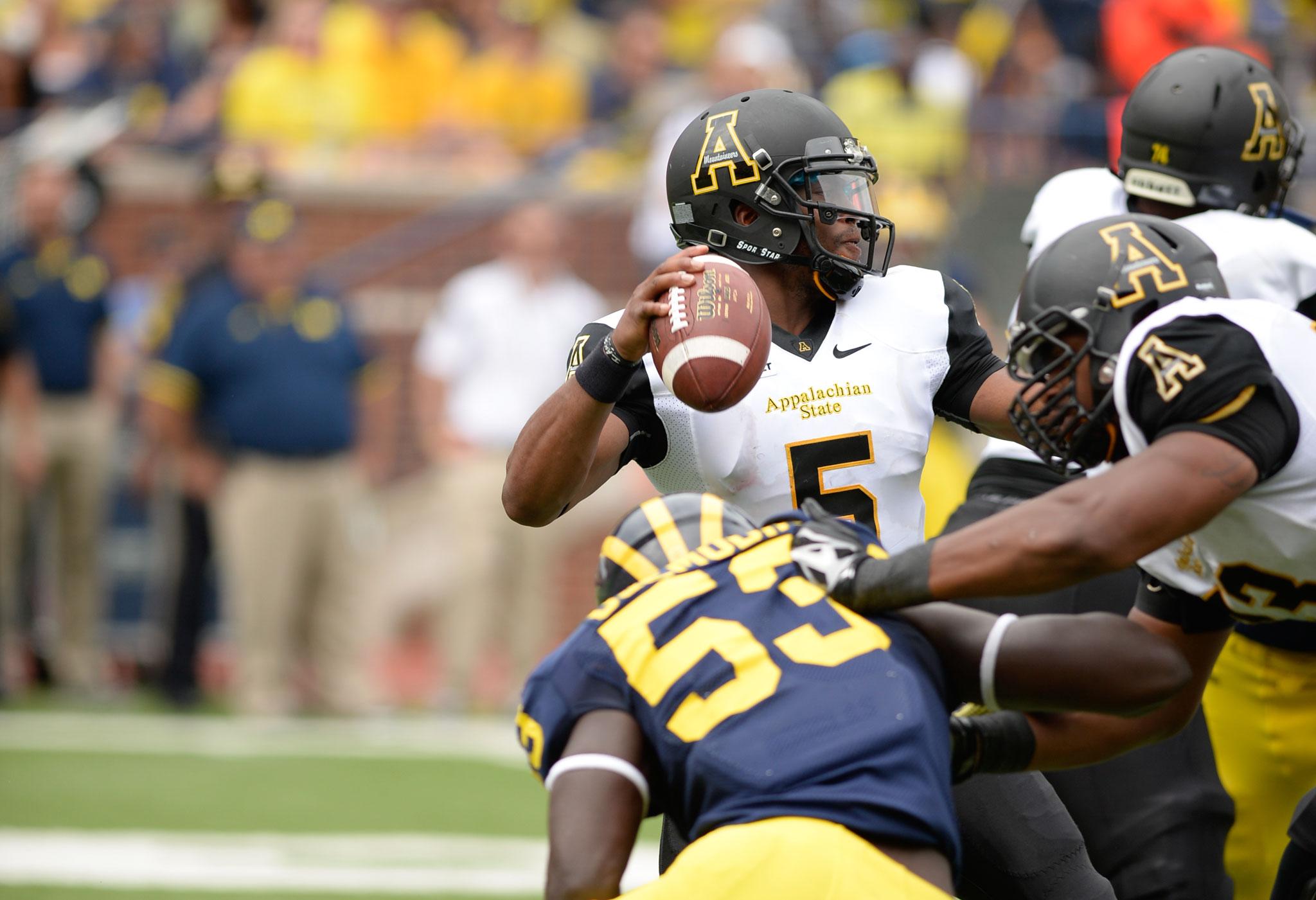 The Mountaineers staved off a shutout on a touchdown pass to Simms McElfresh in the third quarter, and followed up with a rushing touchdown by Cox in the fourth. But, the good for the offense ends there.
The defense had a rough time today to put it lightly, but did manage six tackles for a loss including one sack.
The bad
The three-and-out to start the game would prove to be indicative of how the rest would play out. Michigan outgained the Mountaineers through the air and on the ground. Michigan quarterback Devin Gardner passed for 173 yards with only one incompletion on just 14 attempts.
Michigan's ground attack was no slouch either rushing for big gains of 59, 61 and 62 yards. Running backs Derrick Green and De'Veon Smith combined for 285 of the Wolverines' 350 yards rushing on the day.
Penalties were the problem for the Mountaineers throughout most of the game. Appalachian tallied six flags for 58 yards including a 15-yard illegal chop block call that nearly negated a 27-yard run by Upshaw on the previous play.
Almost kind of close
The Wolverines were ahead the entire game, but held only a 14-point lead for most of the first half. However, three touchdowns in the last four minutes of the half, including a ridiculous blocked punt returned for a touchdown by Michigan linebacker Ben Gedeon, killed any opportunity for a momentum shift.
Too much to handle
It was clear very quickly that Michigan is a much better team than the Mountaineers right now. The Mountaineers actually ran more plays than the Wolverines with 69 to their 55, but Michigan still doubled App State's yardage total 560 to 280.
What's next?
The Mountaineers will face Campbell University (0-1) at Kidd Brewer Stadium in Boone on Sept. 6 at 6 p.m.
Story: Joshua Farmer, Editor-in-chief