A sought after in-state football rivalry was finally renewed Saturday afternoon between App State (2-2 overall, 1-0 Sun Belt) and Wake Forest (4-0 overall, 1-0 ACC). An all-time record crowd of 35,126 at Kidd Brewer Stadium opportunistically hoped to witness the Mountaineers defeat not only a Power Five school, but an ACC member.
After six lead changes within the game, Wake Forest held onto defeat the Mountaineers 20-19 after a missed field goal while time was expiring.
The Good: The Mountaineers forced an early stop on the first Demon Deacon offensive drive in the red zone, making them settle for a field goal. Senior running back Terrence Upshaw earned his second career start on the afternoon and had ran explosively in between the tackles. Upshaw rushed for 86 yards on 15 attempts. Senior defensive end Tee Sims' timely defensive tackle in the first quarter extinguished Wake Forest's momentum. From then on, the man-to-man coverage from the App State cornerbacks helped to produce six consecutive Demon Deacon punts.
Freshman wide receiver Thomas Hennigan provided life to the ecstatic crowd by returning an early punt for 35 yards across midfield. App State would then attempt a successful trick play later on in the drive that consisted of a handoff to Upshaw, a pitch back to Malik Williams and one more pitch back to Lamb, which ended with Lamb throwing a 20-yard touchdown pass to senior tight end Levi Duffield. The scoring play resulted in a 6-3 Mountaineer lead late in the first quarter. Rubino's extra point was blocked.
Rubino's 38-yard field goal late in the second quarter helped to stretch the Mountaineer lead to 9-3. The wide receiving core ran very discipled separation routes in the first half, thus opening the passing game for Lamb to spread the wealth. Lamb was able to throw for 176 yards before halftime. In fact, Lamb moved into the second overall position for career passing yards with 8,043 at App State trailing only Armanti Edwards. The Mountaineers possessed 248 total yards of offense in the first half alone.
Junior wide receiver T.J. Watkins scored on a 84-yard touchdown shovel pass from Lamb to take a 16-10 lead midway through the third quarter. The scoring play was the longest App State pass play since 2005. Later in the game, Hennigan's one-handed 35-yard catch led to a Rubino 39-yard field goal. App State thus retook the lead 19-17 with 10:35 left to play. After a defensive stop, the Mountaineers would later convert a fourth and four to keep a drive alive late within the fourth quarter to move the ball across midfield. However, App State could not get into field goal range to in order to put points on the board.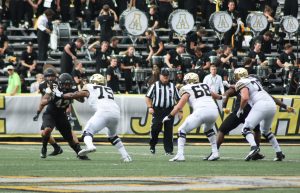 With less than a minute to go, a pass interference call on Wake Forest allowed a Mountaineer first down after facing a fourth and 15 in their own territory. App State seized the opportunity and successfully moved the ball into field goal range.
Taylor Lamb completed 26 of his 50 passes for 372 yards and a two touchdowns. Fifty pass attempts was career high for Lamb. Hennigan caught five passes for 74 yards and Letman caught four passes for 68 yards. On the defensive side of the ball, the Mountaineer defense accounted for six pass break ups. Senior linebacker Eric Boggs led the team with 11 total tackles, six were solo.
The Bad: The Mountaineers failed to convert on a fourth down conversion on their first offensive drive of the game. Thankfully, the decision to go for it would not come back to haunt them. App State could get no relative pass rush to hurry Wake Forest quarterback John Wolford. The defense only accounted for one sack and two tackles for loss. Wolford rushed for 77 yards and threw for 176 yards with two pivotal touchdown passes.
The Demon Deacons pass rush forced Lamb, yet again, to scramble for his life. Wake Forest was accounted for eight tackles for loss. Junior running back Jalin Moore had another pedestrian game with 27 yards on 16 rushing attempts behind a struggling offensive line.
Rubino's first extra point that was blocked proved costly in the long run. Not only did Rubino miss a game 39-yard game winning field goal, he also missed one from 35 yards to end the first half. The game as a whole had a very similar taste to last year's opening game at Tennessee.
Early within the game, App State could not string any offensive plays together even after they won the field position battle. The Mountaineers could have gave themselves more of a cushion in regards to the lead. Relying on the run game to much produced multiple midfield punts.
Wake Forest scored a touchdown on their opening drive of the second half drive taking a 10-9 lead after starting on their own three yard line. On the next drive, an offsides penalty on a ensuing punt kept a critical Wake offensive drive alive after the App State go-ahead touchdown. The Demon Deacons would go on to score and take a 17-16 lead. Wake Forest eventually held on to win 20-19. The Mountaineers are now 0-10 against "Power Five" schools since the 2007 Michigan upset.
Three Takeaways:
Mountaineer pass rush wanted: As the game progressed, Wolford was able to nickel-and-dime the ball down the middle of the field. The defense only accounted for one sack and two tackles for loss. As the man-to-man coverage was coming up big outside the hashmarks, the lack of a quarterback spy allowed numerous Wake Forest drives to remain alive. With a potential running quarterback, someone must always have their eyes on the threat. App State must get to the quarterback in the next few games in order to produce turnovers. The Mountaineers forced no turnovers for the second time this year.
App State offense: Lamb look good at times throwing for 372 yards by connecting with eight of his receivers. The leading receiver was T.J. Watkins who caught three passes for 102 yards and a touchdown. If the Mountaineers can keep the passing game going similar to tonight, they may be on route to back-to-back Sun Belt Conference titles. App State was also able to rush for 122 yards. However, Moore must prove that he was truly the Sun Belt offensive player of the year last year. He was only able to rush for 27 yards.
Special Teams: Tonight proved the need for a solid special teams core. Rubino missed an extra point and two crucial field goals. The missed field goals by Rubino were the firsts of the season. The Mountaineers will need to shore up this side of the ball if they wish to win close games in the future. Both Camellia Bowl games came down to which team possesses the better special teams group.
What's Next? After the heartbreaking loss to Wake Forest, the Mountaineers will now progress to a much needed bye week. After the bye week, App State will host New Mexico State (1-2 overall, 0-1 Sun Belt) for homecoming on Oct. 7.
Story By: Shane Harvell, Intern Sports Reporter
Photos By: Lindsay Vaughn, Senior Staff Photographer