Ray Russell, candidate for the North Carolina House of Representatives 93rd District Seat, and his campaign hosted an "Education Summit" on Sunday at Appalachian Ski Mountain to share thoughts on how North Carolina can, and does, make education great.
"This event gives us the opportunity to push out the details of our faults in education in North Carolina," Russell said.
The room was filled with future and current educators, retired teachers, parents, North Carolina Association of Educators presidents and representatives, county commissioner candidates, and board of education candidates.
"The quote that I love so much that I've seen Ray use recently is, 'if we fail our schools, we fail.' He gets it. Education is the first priority in terms of our future," Gary Childers, candidate for the Watauga County Board of Education, said.
Before the speakers presented, attendees were treated to food and music. Many engaged in conversation and collectively shared their support for Russell and his plans for education if elected.
"He has a unique ability of saying this really does affect every single one of us, regardless of our age, our education and where we live," Willow Larson, Ray For NC intern and sophomore elementary education major, said.
Russell has been a computer science professor at App State since 1991. Before teaching at App State, he taught at Virginia Commonwealth and Freed-Hardeman University, according to Russell's website.
"The values for education is understanding it's our future. Our students of today are our citizens of tomorrow," Larson said. "They need to be respected and supported. We need to respect and support their teachers. If you add those things together, you're going to get an incredible citizenship later on and incredible students now."
Russell said that education has always been a passion for both him and his wife Rhonda as they are both educators. He also said that his wife was an early childhood educator for 22 years but is now a senior lecturer at App State in the Department of Family and Child Studies.
"The saddest thing I can think of is some kid in a rural county or inner city with a talent that never gets tapped," Russell said. "Could they be the next scientist? Could they be the next musician? That is the saddest thing that can happen in the state of North Carolina, and I think it is happening."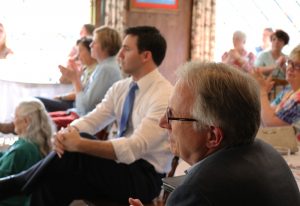 The special guest of the event was Jeff Jackson, North Carolina senator for the 37th District, who gave a speech sharing thoughts on the current standing of education and changes he hopes will be made.
"If we can impact just 1.5 million kids, that's the biggest political win right there," Jackson said.
Russell also accepted an endorsement from the NCAE. Jennifer Lacy, fourth grade teacher at Parkway School and NCAE President for Watauga County, and George Zeller, seventh grade language arts and social studies teacher at Ashe County Middle School and NCAE President for Ashe County, presented Russell with the endorsement.
The NCAE is a professional association of public school employees who act as a voice for educators by advocating for those in the profession and for protection in the classroom, according to NCAE's website.
"We need Ray. He's going to be here for education no matter what. He's seen it through his own profession and his wife's profession," Lacy said.
A few of Russell's proposed methods for improving education are supporting early childhood funding, guaranteeing teachers pensions and health care and changing how student testing impacts students and rewards for teachers.
"One way to value teachers is to pay them for the work they do. I mean, it's numerous hours, before school, after school and on the weekends," Lacy said.  "The only thing we're hoping for is the value in our pay for the work that we do."
Russell and his campaign will host several more events about specific causes and debates on campus before election day on Nov 6.
Story by Brooke Bryant
Photo by Paolabula Blanco
Featured photo caption: Ray Russell addresses the audience of his education summit in conjunction with North Carolina Senator Jeff Jackson. Sunday night's summit took place at App Ski Mountain.