Reckless Arts provides student artists with space
Noticing that Boone was lacking in creative spaces for artists and musicians, three students founded Reckless Arts, a nonprofit music and arts residency program dedicated to the sustainability of art in society.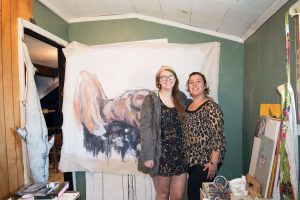 Reckless Arts, located on King Street, opened Jan. 1. Sara Scott, a sophomore history major,  Hannah Malone, a junior studio art major and Zach Reck, a philosophy major, founded Reckless Arts and have been working to mold it into the institution they imagined.
The original vision for Reckless Arts has been evolving since its opening.
"Whenever we formatted what this place could be, we just saw it as another art gallery, but it quickly became more than that," Scott said.
After seeing the way that young artists in the community quickly gravitated toward Reckless, Malone, Reck and Scott decided to shift their goals. Scott, who is the executive director of Reckless Arts, said the response was overwhelming.
"We have decided that this is our goal now: to provide an inclusive, creative space for people, particularly young people, to grow as artists," Scott said. "Everything Reckless Arts does is a facilitator. We're just giving people the space."
The immediate positive response from the community speaks to the desperate need for spaces like this in Boone, Scott said.
She said she has always seen the need for somewhere special for creative people to express themselves in the ways they choose, and though there are other places to do that in Boone, they can be expensive.
"Starving artist is, unfortunately, a very true stereotype, but there's so much talent in this community that needs to be seen," Scott said.
For this reason, both Scott and Malone said that it is important that Reckless is affordable. Thus, Reckless Arts is overseen by a board of several volunteers and only one employee, as opposed to a full paid staff.
The board is important in making decisions more democratic and ensuring that young people who are artists and visionaries can volunteer their time if they want to.
"As a nonprofit, we have the option to do that," Scott said. "If we're a business no one is gonna do that. No one's gonna volunteer their time if they aren't being paid."
John Pipes, a local professional artist along with Bob and Joann Harmon, the owners of the building, are the only non-millennial board members, something Scott said makes Reckless Arts unique from any other program on the East Coast.
"We are founded and mostly run by millennials so we have very millennial ideas about how we want to operate," Scott said.
A reflection of the ideas of a generation, Reckless Arts functions very much on the principles of accessibility and affordability. Reckless Arts is open to anyone at any time and offers opportunities to that are vital to an artist's career at an affordable rate.
"My personal experience is that other spaces are very closed and more exclusive and intimidating," Malone said. "We are always open and there's always art up on the walls."
Not only is this mindset a reflection of the millennial minds who run the gallery, but it also makes Reckless Arts more sustainable.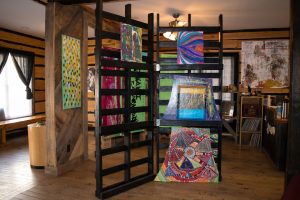 "We're 100 percent sustained on the residencies of the artists who create here, " Scott said. "We don't need to host events or sell art to be open and give people a space to create."
In this way, Reckless Arts continues to give more opportunities to more people.
Sophomore art and visual culture major Sami Desotelle is one of six artists who are a part of Reckless Arts' residency program.
When Desotelle first visited Reckless Arts, her intention was not to become one of the residents.
"I just walked in one day," Desotelle said. "I knew it was a gallery before, but I didn't know it had been turned over to Reckless."
Desotelle is currently working on a collection of five pieces that will eventually be displayed in the gallery. Working with Reckless Arts as a not-for-profit entity has allowed Desotelle to work at her own pace and has given her more autonomy over the way she produces her art.
"A lot of galleries are very particular about what they put up, and that censors an artist," Desotelle said. "As students we should be encouraged and Reckless is a format that provides for that need."
Desotelle's collection portrays several different women with blue hair. She said the art is meant to be calming and reflect a time of renewal or moving on.
Reckless Arts is working with Jeana Klein, an art professor at App State, to lend its space to students who are graduating from App's art program. These exhibitions can serve as a trial run for senior exhibitions.
"It's the first time a lot of us will be able to do that," Malone said.
Had she asked for opportunities like this elsewhere, other galleries would laugh at her because she is so young, Malone said.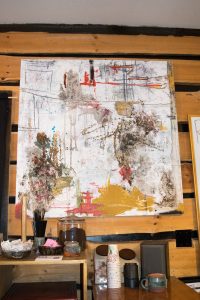 A student and artist herself, Malone is using the space to find herself as an artist away from the expectations from the university. One of Malone's more abstract paintings hangs behind Reckless Arts' coffee bar.
Upstairs, Malone occupies one of the studios that residents use to work on their art. Malone's space is small and mostly taken up by an 8-foot figure painting she has been working on.
"I'm a bit of an interdisciplinary artist, but I'm a painter at heart and I'm also a fibers artist. I do a little bit of everything," Malone said.
Reckless Arts provides a space for an array of arts, including visual arts, music and dance. Scott said they are very open to the idea of a night for salsa dancing or yoga.
Malone said they have blues dance nights every Thursday 9-11:30 p.m.
Scott said Reckless Arts' music residency program can be one of the harder concepts for people to understand, but what it entails is a practice space and music recording capabilities for musicians.
"The musicians that pretty much exclusively play here in our house band for our gallery events are also our residents, so they have opportunities for performance as well," Scott said.
Because music is essential to selling art and vice versa, Scott said it's vital that Reckless Arts incorporate both and it's a "magical combination."
"We work better together than apart," Malone said.
Reckless Arts will be hosting several events in the future including open mics, figure drawing and "beer and schmear," where participants paint using Ramen Noodles.
"Beer and schmear is basically what would you do when you were drunk to create art," Malone said.
Reckless wants to remain geared toward teaching new processes for creating. Every event they host is in-house, which means they are taught by the residents.
"We definitely consider ourselves an institution," Scott said. "We're working together and learning from each other all the time and we want to continue to do that for the community."
Reckless Arts currently has 13 residents and looks forward to working to expand its program beyond Boone.
Photos By: Lindsay Vaughn, Staff Photographer