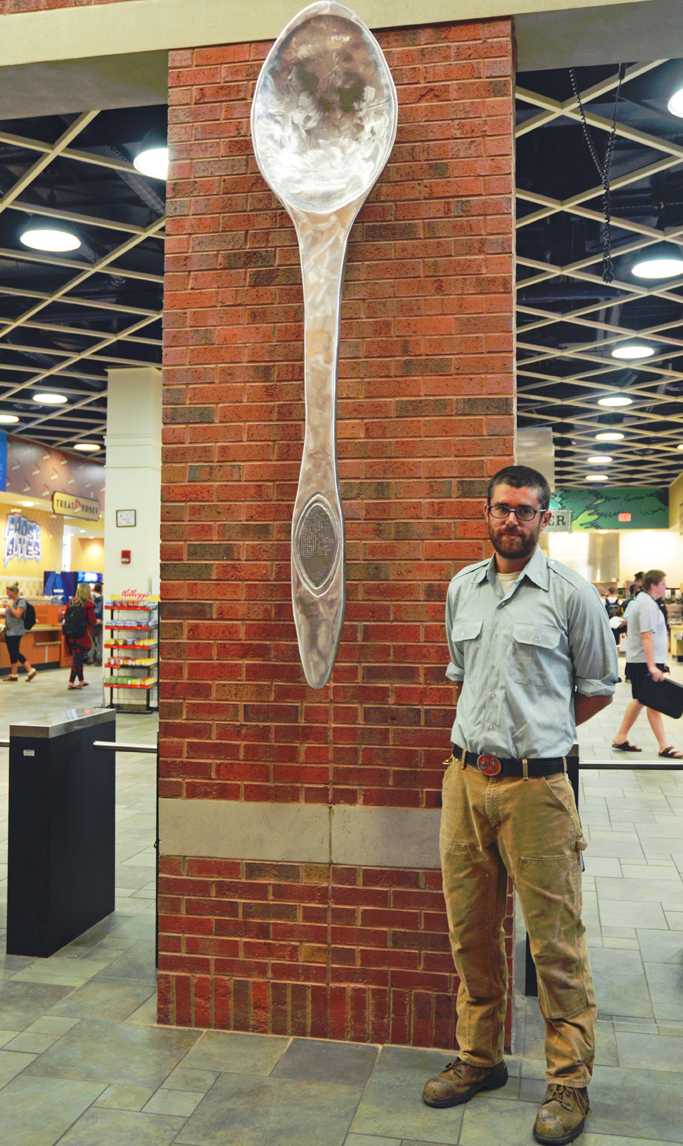 A six-foot spoon sculpture was unveiled in Central Dining Hall Tuesday to represent one year of aluminum use.
Part-time adjunct professor Joe Bigley received a grant to create the piece, building a vegetable oil burning furnace and mold to cast the sculpture.
During the 2011-12 academic year, Appalachian Food Services set aside the 110 pounds of aluminum used in Central Dining Hall, which would typically be recycled through the Office of Sustainability.
The aluminum came from pie pans and cooking foil, Food Services Specialist Heather Brandon said.
"It wasn't hard setting aside the aluminum since we are already in the habit of recycling," she said. "We just set a separate bin inside the dish room."
Aside from collecting aluminum from the loading dock, Bigley assembled everything himself in Wey Hall's sculpture studio, compacting the aluminum by rolling it into a burrito shape.
Adjunct instructor Adam Adcock contributed as well.
"I assisted in lifting the crucible out of the furnace and ladling the metal into the resin-bonded sand molds," Adcock said.
After considering an apple or spatula shape, Bigley chose a spoon mold with information stamped directly onto the surface to match the Sanford Commons logo.
Brandon said she hopes the sculpture will spark conversation about recycling.
"I hope having such a large representation of a year's aluminum usage will inspire students to take advantage of recycling and leave Appalachian with this habit," she said.
The spoon sculpture is on permanent display in the Central Dining Hall atrium.
Story: BLAKE LITAKER, Intern A&E Reporter