Reports: App State, Georgia Southern slated for move to Sun Belt Conference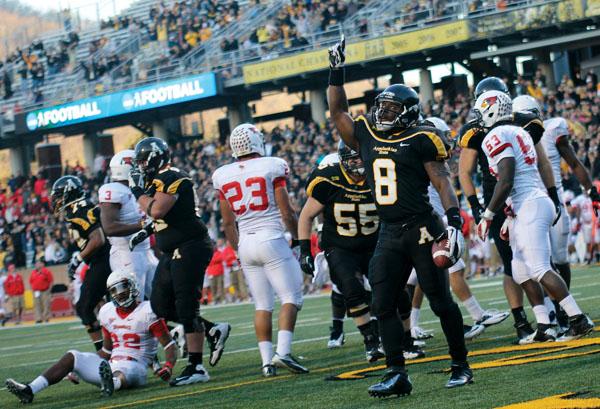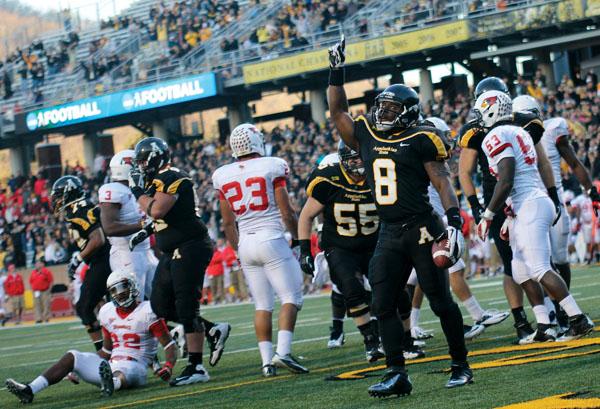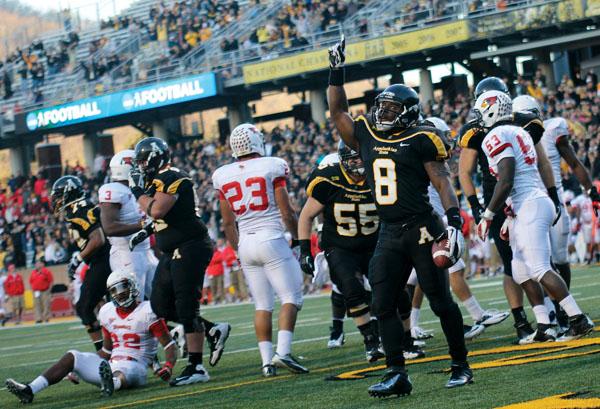 App State will reportedly announce conference realignment this week, despite lack of confirmation from officials
Appalachian State University's time in the Southern Conference may be coming to an end soon as multiple reports claim conference realignment is imminent.
A source "familiar with the negotiations" told the Winston-Salem Journal Monday afternoon that App State officials will accept an invitation to join the Sun Belt Conference later this week, possibly Wednesday.
The Sun Belt Conference is a part of the Football Bowl Subdivision and will include Arkansas State, Georgia State, Louisiana-Lafayette, South Alabama, Texas State, Louisiana-Monroe, Troy and Western Kentucky for football and Texas-Arlington and Arkansas-Little Rock for non-football sports.
The Sun Belt will reportedly take in all sports the Sun Belt offers from App State. However, the Sun Belt does include wrestling, men's soccer and field hockey.
Neither App State nor Georgia Southern could confirm or deny the accuracy as of press time. The conferences commented the same.
"I'm not aware of any invitations," said Karl Benson, the commissioner of the Sun Belt.
Despite this claim, Chair of Faculty Senate Andrew Koch said the move to the Sun Belt was discussed at a Board of Trustees meeting.
"I cannot confirm or deny if they made a decision," Koch said. "I will say one thing, we have received an offer."
SB Nation also had a source confirm that Georgia Southern will leave the SoCon and move up to the Sun Belt as well. According to its source, the Sun Belt wanted to "bring in existing rivals," and they were "intrigued" by the rivalry.
As far as a timeline, things are reportedly still being worked out. However, ESPN reported that App State would be allowed to compete for Sun Belt championships in non-football sports in the 2014-15 school year.
Football won't be able to compete for the Sun Belt football title and bowl games until 2015-16, but there is the possibility that the Sun Belt could allow football to participate in just the regular season games in 2014.
App State football will still play SoCon teams next season even if they announce the move this spring. They will, however, not be able to compete for the FCS football championship.
If the move to the Sun Belt is announced, App State will have to pay a $600,000 exit fee for leaving within two years after giving notice.
App State is scheduled to play Michigan in 2014 and McNeese State in 2014 and 2015. McNeese State said they "absolutely" would still want to play App State even if they move. Michigan could not be reached for a comment.
"As far as we are concerned, those games are still a go," said Matthew Bonnette, the assistant athletic director for McNeese State.
The Sun Belt will have a 12-member basketball league. App State is 6-4 in basketball against the 2013-14 Sun Belt members, according to ESPN.
App State football is 6-3 all-time against the eight remaining members of the Sun Belt Conference.
Story: ANDREW CLAUSEN, Sports Editor; STEPHANIE SANSOUCY, Senior News Reporter
Photo: PAUL HECKERT, Photo Editor