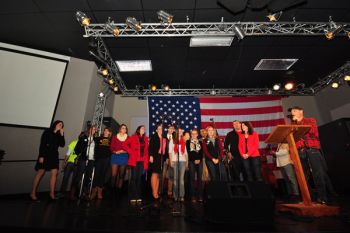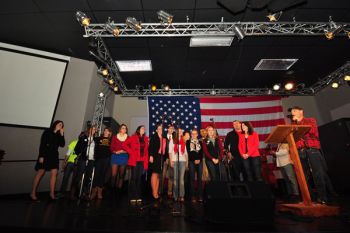 The Watauga County Republicans gathered at Harvest House Tuesday night to watch the election results, while the Democrats gathered at Char Restaurant.
College Republicans Vice Chair Wesley Gwinn said the Watauga County results were "certainly bittersweet," but he would have "loved to see Tommy [Adams] win."
Among the Republians in attendance at Harvest House were some of the area's GOP candidates, including U.S. Rep. Virginia Foxx.
Foxx ran for N.C. District 5 of the U.S. House.
"I lost [Watauga County] by 96 votes, so I am thrilled, very pleased," Foxx said.
Foxx won the House seat over Elisabeth Motsinger in North Carolina.
Newly elected member of the Watauga County School Board Ron Henries said he "really appreciates student support."
Henries said he "is very excited to be on the board again." Henries served on the school board 2006-08.
Many volunteers for President Barack Obama's re-election campaign attended the event at Char Restaurant.
Senior psychology major Anna Scott worked in the area with the Obama campaign.
"This is one last opportunity to spend time with all the people we worked so hard with," Scott said.
Treasurer of the Watauga Democratic Party Susan Phipps said working together has made her feel very close to many area Democrats.
"We've worked so hard for so long mostly together, but sometimes at different times at the headquarters, and we just feel like family," Phipps said. "So we just want to be with our friends and family and share the good things and share the bad things."
President of the College Democrats Lia Poteet was excited about Obama's victory.
"It's about more than just the [College Democrats] club, it speaks for all Americans," Poteet said. "It feels wonderful. It's a relief that it's done, and it is 100 percent satisfying to know that we've worked to make this happen. We all feel like we've worked to make a difference and that we were a part of it."
Story: STEPHANIE SANSOUCY, Senior News Reporter and JOSHUA FARMER, Senior News Reporter
Photo: JOEY JOHNSON, Staff Photographer