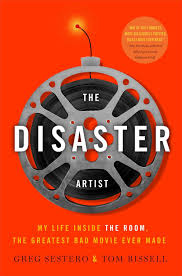 In 2003, Hollywood unknown Tommy Wiseau set out to create a "great American drama" that would be taken seriously and respected by colleagues and critics alike, a film called "The Room."
With the help of a friend from an acting class and $6 million, he created a film that was talked about for years to come in a way he wouldn't dare to imagine: The next American cult classic.
Greg Sestero's "The Disaster Artist: My Life Inside the Room" is a non-fiction chronicle of this endeavor. Written by Wiseau's closest friend, producer of the film and co-star, Sestero is the closest anyone could get to the action, except for Wiseau himself, of course.
"The Room" made $1,800 in its two-week run in the few theaters that showed it. With a cast of unknowns and a script full of plot holes and strange one-liners, it was hard to think it would go anywhere.
But eventually word spread and the film took on a mind of its own.
Sestero does an excellent job at foiling the novel with a first-person account of the bizarre filming of "The Room" and a retelling of how he met Wiseau as a struggling actor living in San Francisco.
When the two stories catch up with each other, it doesn't feel forced or out of place. I found myself sympathizing with Sestero and becoming more invested with his story each time I turned the page. Although written by a ghostwriter, I never got the sense that Sestero was holding back or being edited.
"The Disaster Artist" spends a bit of time focusing on Wiseau, a very private man with an Eastern European accent who will not reveal most details about himself – specifically how he got the incredible amount of money to make the film.
While this enhances the quirkiness of the film, "The Disaster Artist" tries to answer the questions in the best way possible – but even after 15 years of friendship, Sestero can't tell you his best friend's age or where he is from.
The book doesn't paint Wiseau as a villain or a stranger, though. The speculation and stories Sestero mentions humanize his friend, allowing the reader to draw on their own theories of the man.
Although I've been a fan of the movie, I found myself more interested in the story in the book rather than how it related to the film. Regardless of whether or not you've seen "The Room," this book gives great insight into the making of an accidental cult classic and the friendship that made it all possible.
Rating: four out of five stars
REVIEW: CASEY SUGLIA, Intern A&E Reporter