App State's annual men's Black and Gold soccer game took place Wednesday evening giving more momentum to the team's regular-season beginning for a long journey to the Sun Belt playoffs.
While attending a game this year, many will notice a lot of new faces on the Mountaineers roster and that is due in part to the twelve incoming freshmen.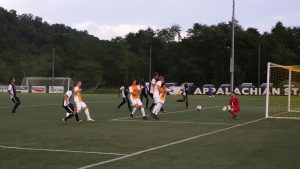 "As a freshman, it is nice to have a lot of guys coming in with me and it has definitely made it easier to adjust," freshman forward Tyquann Perinchief, who scored a goal in the team's Black and Gold exhibition, said. "The older guys have been great with us, they are getting us ready for where we need to be."
The Mountaineers are going to have to find different ways to score as four of their of top scorers have either graduated or left for different reasons.
"There is no pressure. Coach does a good job of giving us confidence," junior midfielder Daniel Avila said. "We are all in this together and we do not care who scores, as long as somebody does."
The Mountaineers are going to look to Avila to take a big step going into his junior year, and his experience playing in the soccer Premier Development League is certainly going to help.
"I think it definitely helped me grow a lot. I was the top goal scorer there," Avila said. "The coaching staff over there is really good so bringing those tools over here is good for my confidence."
With the offensive line having questions surrounding itself, the Mountaineers look to make the defense the center of attention. After a strong defensive season of allowing only 1.33 goals per game, the defense will continue to be a focal point.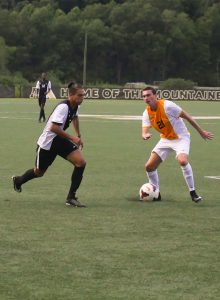 "We are obviously going to try and get as much shutouts as we can," junior defenseman Ian Bennett said. "We always say 'defend first' and 'the defensive fuels the attack' and that's going to be the philosophy this year."
Head coach Jason O'Keefe has not been shy about his impressions on how well his team has performed in the exhibition games despite many injuries during the offseason.
"We've got a lot of talent and our depth is going to be a strength of this team," O'Keefe said. "This is an ambitious team. We are trying to get this program back to a winning way."
Injuries remain a part of the game though, and the Mountaineers are dealing with some key players being down, as well as individuals who are playing for their national team, making them currently unavailable to play for the university.
"We have a couple guys who are on crutches already," O'Keefe said. "We also just lost Raheem Somersall who is playing with his national team so we are possibly down three starters."
This will be O'Keefe's second season as the Mountaineers head coach and he believes having the spring to implement his system will be very critical.
"Being able to bring back a core group of players who know the system is already an advantage we had over last year," O'Keefe said. "Those core players will be able to help the younger guys learn the system and it will make it easier on me."
The excitement level for Appalachian State is high and they believe they have the right pieces to compete in the Sun Belt for a conference championship with an improved offense and their strong defense.
The Mountaineers season begins Friday at 7 p.m. when they travel to Old Dominion.
Story By: Michael Pigg, Sports Reporter
Photos By: Jamie Patel, Video Editor