Rosen Sculpture Competition redecorates campus every year
Students may have noticed a slight change in the scenery around campus every year. No, they're not imagining things. Those two alligators by Walker Hall were not there last year. They're new guests on campus and they're here because of the Rosen Sculpture Competition and Exhibition.
The Rosen Sculpture Competition and Exhibition is an annual competition that allows artists to submit their work for consideration. And the prize? The opportunity to have their work displayed on Appalachian State's campus. In addition to a cash prize for the top three sculptures, ten different sculptures receive the honor of being installed around campus for a one year period.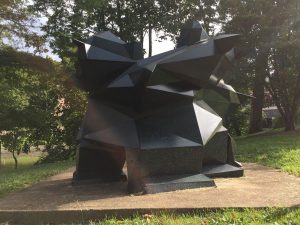 "I think it's a fantastic way to place art into the campus environment that is going to be viewed and enjoyed by everyone that walks by," Lynn Rees-Jones, director of marketing at the Turchin Center, said. "I just think it's really interesting to see all the sculptures that come in, and the variety."
There aren't many rules. It is an open call for any artist residing in the United States over the age of 18 to enter. Professionals, amateurs and students alike are all welcome to compete. Artists may submit a total of three sculptures and five images at a time. The sculptures must be able to be installed and secured to the ground, capable of surviving a Boone winter, and the artist is responsible for transporting the art to campus. Other than that, artists can submit whatever sculpture they want and they can make any statement they want.
In March, the selected artists are notified that their work has been selected, so the artists can make arrangements to transport their art to Boone in May to be installed. The artists then return to Boone in July for the annual Rosen Sculpture Walk and Reception, which is a part of An Appalachian Summer Festival. The winning artists are not actually announced until the walk. This year's walk took place on Saturday, July 22.
Mary Anne Redding, the Turchin Center curator, actually decides where each winning sculpture will best fit on campus during its exhibition.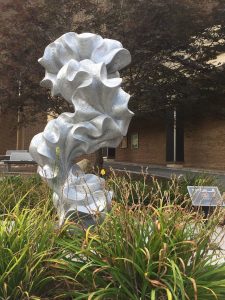 "The best part of this competition is that Appalachian State has been able to provide a rotating outdoor exhibition of diverse and engaging sculpture to the regional community for over 30 years," Redding said. "The competition is one of the longest running and well-regarded competitions with an open call for submission in the country."
The sculpture of a man sitting on a pillar next to the Broyhill Music Center is called "Ordinary Guy" by artist Charlie Brouwer. It is Brouwer's fourth sculpture to be recognized by the Rosen Sculpture Competition.
"I thought it would be nice to honor ordinary people," Brouwer said. "I think this sculpture is one that nobody will object to because he has no politics associated with him."
When asked what he hopes people will feel when they walk past, Brouwer said, "I hope they feel good about it, y'know? I hope they feel joy, feel that it's okay."
The two green creatures in front of Walker Hall are called "Conversation," by artist Wayne Vaughn. If Vaughn could tell students anything as they walk past, he'd tell them to cut back on the cell phone usage.
"Everybody's so wrapped up in their telephones! It's really good to just have a conversation, people are fascinating creatures," said Vaughn.
The massive monument that sits between Walker Hall and Rivers Street is called "Lost Horizon," but it's not just meant to be viewed from the outside. There's a circular gap on the side for people to crawl inside the sculpture. The walls are high and the top is wide open, meant to block out one's surroundings so all they see is the horizon created by the sculpture.
Artist Mike Wsol said that he wanted to "create an opportunity for someone to slow down and pay attention," and that "Lost Horizon" has the capacity to create a reaction. Wsol wants to tell people to "get in there," and enjoy the sculpture the way it was meant to be viewed: from the inside.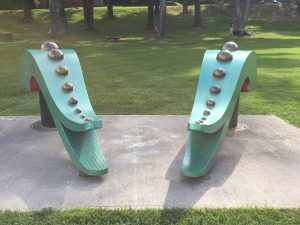 The current sculptures were submitted through an online registration system over a one-month period, between Jan. 13 and Feb. 18. They will be on display until the deinstallation period in May 2018. Any artists wanting to enter their work for the 32nd Rosen should keep an eye on the Rosen website for dates and information on submitting procedures at RosenSculpture.org.
Story and Photos By: Natalie Broome, Intern A&E Reporter