App State's rushing attack has been its bread and butter throughout their first three years in the FBS, ranking inside the top-25 in total rushing each season and finishing as high as sixth in 2015.
Starting off this season, App State's offense continues to rely on its rushing game to carry the offensive load. Fortunate enough for the Mountaineers, they feature a battle-tested offensive line ready to push their rushing attack to its highest mark in App's short FBS tenure.
Seniors and multi-year starters Colby Gossett and Beau Nunn return as the core of the Mountaineers' offensive line. Gossett, who is serving as the team's starting right guard, and Nunn, starting at right tackle, both earned All-Sun Belt selections a season ago for their breakout junior campaigns.
Holding onto their positions, sophomore Victor Johnson and junior Tobias Edge-Campbell solidified their roles as the team's starting left tackle and left guard respectively.
All four linemen saw playing time for an App State offense that finished last season as the No. 11 rushing offense in the nation. Battling through various injuries and in-team competition, the two guards and tackles on App's team earned their right to start the season opener at Georgia.
"That's the key to every successful football team," offensive line coach and co-offensive coordinator Shawn Clark said. "You're not gonna be a good team without a good offensive line. Coach Satterfield really puts the game in our hands a lot of the time to make plays when our number is called."
Rolling his ankle in App State's 28-24 loss at Troy last season, Nunn missed the final two regular season games for the Mountaineers. Returning for the Mountaineers' Camellia Bowl victory over Toledo, Nunn quickly recovered and is ready to elevate his game in this year's campaign.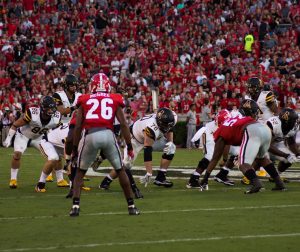 Looking to surpass his individual accomplishments, he wishes to pick up his first selection to the first-team all-conference list just as Gossett did a season ago. Anchoring the offensive line with his former freshman roommate, the two seniors look to continue to uphold App State's dominant presence on the offensive line.
"For our offensive line group, we need to carry on the tradition of playing hard and playing physical and getting after guys on the other side of the ball," Nunn said.
Getting after opposing defenses has not been an issue for App State's offensive line, rushing for 5.6 yards per carry in 2016.
Rounding out the offensive line, however, has been up for debate. Capping off his App State career with a stellar senior season, the departure of former center Parker Collins opened up a key position on the offensive line.
Throughout summer camp, two replacements for Collins rose to the top, freshman Noah Hannon and redshirt freshman Ryan Neuzil. 247Sports reported days before the opener in Athens, Georgia that Neuzil had won the starting job over first-year Hannon, but as the Mountaineers took the field, Hannon was the one snapping the ball to senior quarterback Taylor Lamb.
As the season progresses, in-practice competition and in-game performance between Hannon and Neuzil will determine which underclassman will get the starting nod.
"We have a couple of guys that don't have as much experience as we did last year, but they've stepped in and taken over the role pretty well," Gossett said. "We've done what we could with the little things and just tried to get them better and prepared for the first game."
Routinely averaging over 250 rushing yards per game last season, the Mountaineers only mustered 136 yards on the ground against the Georgia Bulldogs. App State's running backs struggled even more, averaging just over 2.2 yards per carry for the game.
Penalties also crippled the Mountaineers' offense, committing 11 penalties for 105 yards with four of them coming at the hands of offensive linemen.
While the offensive line failed to open many holes against the Bulldogs, the Mountaineers' offense just struggled in general against Georgia's stout front seven. Returning back to Sun Belt competition before hosting Wake Forest in a showdown at Kidd Brewer Stadium, App's offensive line knows that games against top competition puts them in the best place to succeed.
"The one thing that you always want is to go against the best," Clark said. "When you're playing the SEC and the ACC, those guys are the best in the Power Five, and we're excited to go out and see how we compete against those guys."
Moving forward in App State's schedule, Idaho ranks as the only team inside the top-40 in team rushing defense from the 2016 season.
Developing into a more cohesive group, the Mountaineers' offensive line looks to dominate conference opponents. Building on last season where they ran for over 100 yards in each Sun Belt contest, they look to lead App State to another Sun Belt title.
"It's just great to come out there and know that you're going to dominate somebody the whole game," Gossett said. "It's a mindset more than anything else. You gotta know that every play you line up against somebody and you're not going to let him punch you back."
Aside from this 2017 season, Nunn and Gossett also prepare for the future. Following in the footsteps of Collins, who most recently was on the Los Angeles Rams during the preseason, they wish to test their skills at the game's highest level.
The Rams released Collins on the team's final roster cut, but Nunn and Gossett remain optimistic for their future, a future that generations of App State offensive linemen have fought hard to earn their way onto an NFL field.
"It's definitely awesome seeing some guy like Parker make it," Gossett said. "He's a hard-nosed football player who goes out there and gives 110 percent every play. It gives us a chance and opens up more lanes for us in the future, and I really appreciate everything he has done and everything all the players before us as well."
Story By: Tyler Hotz, In-Depth Editor
Photos By: Lindsay Vaughn