Senior Goodbye: Opportunities present themselves once in a lifetime
Everyone goes to college to learn more and find their place in this world.

We learn new things in lectures and in practice, about ourselves as we live on our own for the first time and are responsible for our well-being, and what kind of path we want to take after college.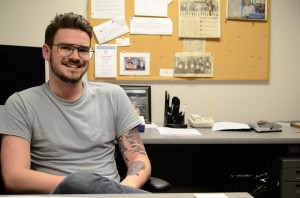 I found all of this at The Appalachian, and it all started my freshman year in October 2010 when I stepped into Room 217 of Plemmons Student Union for the first time.
Four years later, after hundreds of bylines, hours upon hours spent in a windowless newsroom, ungodly amounts of coffee consumed and finding my place at Appalachian State University, my time at The Appalachian has come to a close.
I still have one more semester of classes left at the university, but after four years – with three of them as a member of the editorial board – it's time for me to step back and let others take charge of this nearly 80-year-old student organization.
I have full faith and complete confidence that Joshua Farmer will be an incredible leader next year as the editor-in-chief. With the help of his editorial board and staff, they will accomplish work as journalists that I will be proud to see from the viewpoint of a reader.
I want to thank my editors that believed in a freshman still trying to find his niche at Appalachian, who showed up to the newsroom four years ago just wanting to become involved, and to all the members of the first editorial board I was a part of sophomore year. To the journalism faculty at this university, thank you so much for the time you have committed to workshops, critiques and conversations to staff, editors and myself over the last few years.
To David Freeman, our former adviser, thank you for believing in me when I took over as editor-in-chief in 2012 and teaching me what you have learned in your expansive journalism career. Without your help and advice last year, I would not be the journalist or person I am today.
To Allison Dyche, our current adviser, thank you for all the time and effort you have put into your first year at The Appalachian. This news organization could not have gained a better adviser to help lead The Appalachian and its staff to bigger and better things in the ever-changing state of the media.
And of course to the staff and editors of The Appalachian, thank you for all the hard work and dedication you have put into the newspaper and website this past year. Although this job is stressful and beyond hectic at times, I cannot think of a day where I did not want to be anywhere other than a part of this amazing group of people.
And while this is my final byline as a member of The Appalachian, I'd like to leave with the hope that I made decisions and put trust in the right people that created something informative, accurate and entertaining. I can only hope that in my time as reporter, section editor and editor-in-chief that I will leave this place with the belief that I fulfilled my role as a student journalist, no matter what job title I had.
And I will always remember the first time I walked into Room 217 in fall 2010 and how I made the most important decision of my entire college career.
Michael Bragg, a senior journalism and public relations major from Lillington, was the editor-in-chief from October 2012 to May 2014.