SGA hosts student body presidential debate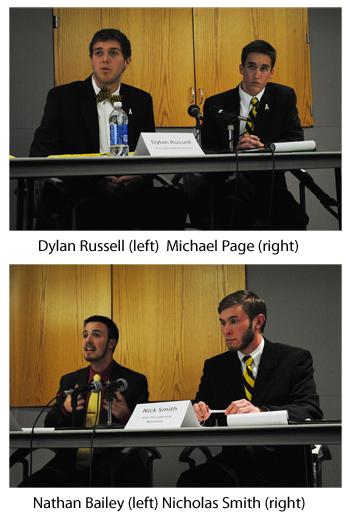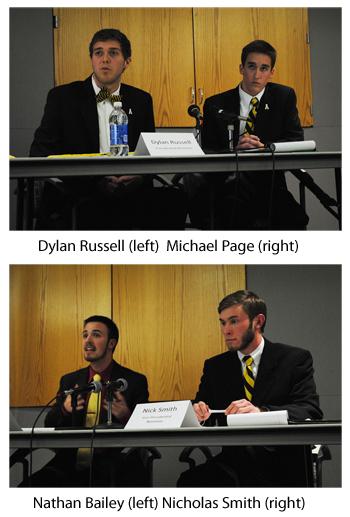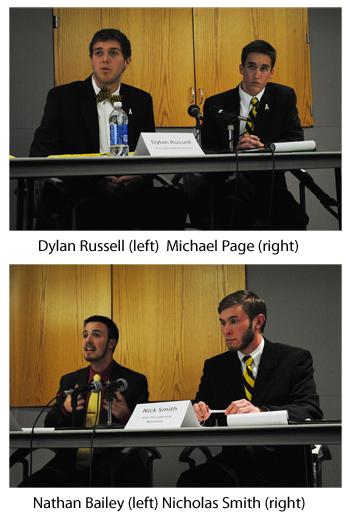 Appalachian State's Student Government Association hosted the student body presidential debate Tuesday between the Dylan Russell and Michael Page ticket and the Nathan Bailey and Nicholas Smith ticket.
The format consisted of a three-minute opening statement and two and a half minutes to respond to questions with an opportunity for a 30-second rebuttal, as well as a three-minute closing statement.
Vice Chancellor of Student Development Dino DiBernardi served as the moderator for the debate.
Representatives provided questions from Emerging Leaders, Gamma Beta Phi, the Black Student Association and the Department of Student Programs.
The tickets worked in teams, with the president and vice president answering questions together.
In their opening statements, the tickets each stressed the overarching themes of their platforms. The Bailey/Smith platform outlined the need for a focus on sustainability on campus and lowering costs and spending.
The Russell/Page platform highlighted the fact that their campaign came from student ideas on 1,778 notecards submitted during the limited campaigning period. They also focused on transparency and safety, as well as providing a 24/5 library.
The first question posed was regarding improving safety on campus. Page said he has already began work on a Blue Light application for smart phones that can be used to alert help if someone is in a dangerous situation. Russell also mentioned mental health issues.
"We can't be safe without addressing mental health," Russell said. "Michael and I plan to expand the counseling services. We need to make sure that counseling services has the right resources to make sure all of our students are safe."
Bailey also identified a need to address mental health.
"We want to work with the Mental Health Ambassadors to have an SGA-sponsored weekly event in order to increase knowledge on campus," Bailey said.
Bailey questioned Russell in his effectiveness as the current director of campus outreach.
"One of the things that a lot of the students that have talked to us [say] is that they have no idea what SGA does," Bailey said. "Clearly, something needs to change."
Russell responded by calling for a shift in the outreach focus.
"Campus outreach doesn't need to be so legislation-driven, it needs to be focused on how we get these people back to the table," Russell said.
But the debate was more for the students than the candidates in principle.
"[The job of] students is to learn about these candidates and what they're proposing," DiBernardi said. "At the end of the day, it's about the students getting out and voting and electing, from these two excellent tickets, the one that they think should lead us through next year."
Junior Colin McCurry said the debate helped him to decide whom to vote for.
"It's good hearing from them, what they plan to do and what their platform is all about," McCurry said.
Story: JOSHUA FARMER, News Editor
Photos: Nicole Debartolo, Intern Photographer