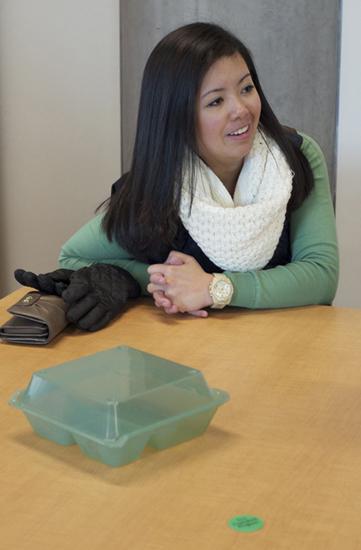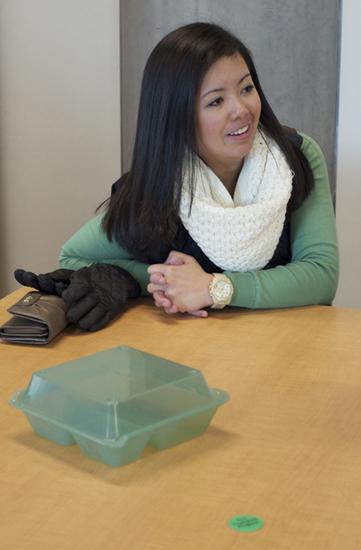 Appalachian State University Food Services and Student Government Association have paired to fund a trial run to test the feasibility of using Eco Box Clamshells as a food container, said SGA Director of Sustainability Alex Cotton.
"The Eco Box is like a reusable Tupperware container," Cotton said.
Its purpose is to provide a more sustainable alternative to disposable Styrofoam containers, Cotton said.
"Students can take their lunches and dinners out, eat at their apartment, at their house, bring it back, Central will sanitize it, and they can pick up a new one," Cotton said.
Cotton said when it came to choosing the participants for the trial, they wanted to get a good representation of the population, including faculty, staff and on- and off-campus students.
Cotton said there are 40 total participants in the trial.
The bill of support for this project was passed through last year's SGA Senate, and the current administration is implementing it with grant money, Cotton said.
Cotton said that the Association of Student Government, an external body, put $1,000 into the program and Food Services matched that amount to total $2,000 invested in the program's trial run.
"I personally am hoping to continue the program next semester and offer it maybe to all on-campus residents, or at least a greater number," Cotton said. "We just need to make sure we are organized enough so that a greater number of people can come through and use the boxes."
Cotton said that SGA is asking for feedback all throughout the semester to help determine the feasibility of implementing the program fully. They will also conduct a survey at the end of the semester.
University Program Specialist for Food Services Heather Brandon said that they started researching the Eco Box Clamshell several years ago. They contacted other schools that had used the boxes, but received mostly negative feedback.
"This trail is also an opportunity for us to work out some of the kinks in the program to figure out how best to roll it out to campus if it's successful," Brandon said.
"We don't really know what's going to happen yet, it's still pretty early," Brandon said. "I have low expectations right now. I hope that I am pleasantly surprised."
Brandon said that there was trouble finding the 40 participants for the trial, and said that "spoke to a lack of enthusiasm on the part of the students" to her.
"In the first couple weeks, very few people who signed up to participate have even used them," Brandon said.
Brandon said that she noticed that a challenge to the program was the fact that a diner had to carry around the box with them, and that the box is to be rinsed out before it is returned to Food Services to be sanitized.
"[Other schools] shared with me that the boxes were coming back in a horrible state, moldy, food crusted on, so they were having to run them through the washing machine several times," Brandon said.
Brandon said she also worried that the boxes may not be returned in a timely manner.
"We hope it's successful," Brandon said. "Appalachian is a very sustainable campus, and we want to be as sustainable as we can at Food Services."
Senior economics major Frances Ramos is a student using the Eco Box Clamshell as a part of the trial.
"I really like it," Ramos said. "I love the idea of it too, so I hope it works out."
Ramos, who lives off-campus, said that she had no problem carrying it around, but that she knows that issue could hinder the program's implementation.
"It's an inconvenience to carry around, but I don't have a problem with it," Ramos said.
Story: JOSHUA FARMER, News Editor
Photo: OLIVIA WILKES, Senior Photographer