Softball downs Winthrop twice, remains undefeated at home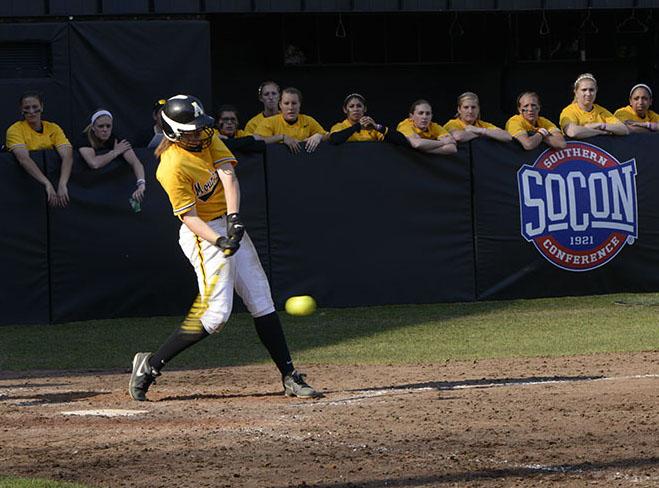 Appalachian State softball (20-13) had to defend their 9-0 home record against the non-conference Winthrop Eagles (20-19) Tuesday.
They not only defended the record once, but twice. The doubleheader saw seven Mountaineers with RBIs and eight players cross home plate.
"Our offense is very contagious," head coach Shae Wesley said. "When we have a couple good hits, everyone gets on board. We can go through a lineup very quickly, and when we get hot like that it's a great thing and a fun thing to watch."
App State started the first game hot by scoring five runs in the bottom of the first, prompting Winthrop head coach Mark Cooke to remove his starting pitcher Chelsey Schoenfeldt after only one out. Schoenfeldt gave up two earned runs.
The Mountaineers' freshman starting pitcher, Shivaun Landeros, also had difficulty pitching in the first and fifth innings, but was able to hold on and pitch the complete game – the only pitcher to do so Tuesday. Landeros only gave up five earned runs.
"I feel like I always have one or two innings where I get into situations," Landeros said. "It's important that I keep my head. If I let it affect me then it's all downhill from there. If I know I can get out of it, it usually ends pretty quickly."
Freshman catcher Alex Sohl hit her first home run of the year in the bottom of the third inning – a two-run shot.
"I came in early and focused on little things," Sohl said. "It worked, and it felt really good."
After winning the first game 11-8, the second game saw sophomore Katherine Johnson toe the mound. App State's bats started slowly, falling at one point 4-0 in the middle of the third inning. Sophomore Alissa Schoelkopf would finish the game, relieving Johnson.
Trailing 2-7 in the bottom of the fourth, the Mountaineer bats got on a roll. After a leadoff bunt single by sophomore Cynthia Gomez, they started rolling, scoring seven runs.
"Cynthia Gomez had an outstanding day at the plate," Wesley said. "Not only was she on fire athletically, she was really focused mentally."
These would be the last runs scored in the game as App State hung on to win 9-7.
"Once someone gets it started with our team, we never stop," Gomez said. "We all pick each other up. When one of us hits, we all hit around."
Appalachian is now 11-0 at home this season for the first time in team history.
"It's outstanding," Wesley said. "Hats off to all the girls. They love playing here; they love playing at home. We've had some really great crowds here. There's no better place to play at home."
Softball will continue their season Saturday when they head to Greensboro for a doubleheader starting at 1 p.m.
Story: JESSE WARE, Sports Reporter
Photo: COURTNEY ROSKOS, Senior Photographer