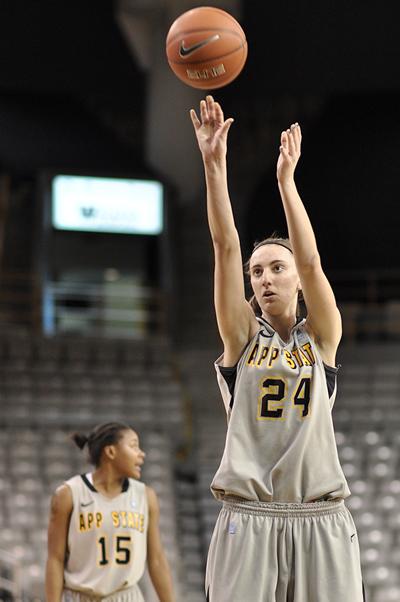 It is arguable that the month of January has belonged to Appalachian State's women's basketball's 6-foot-1-inch forward Maryah Sydnor.
While only in her second year of playing at Appalachian, the sophomore has proven that she can outperform and keep up with some of the best players in the Southern Conference.
In Sydnor's first year playing for the Black and Gold, she was named SoCon freshman of the year by the league's media for strong performances throughout the season, according to goasu.com.
She was able to continue that level of performance when she became the second player in school history to score at least 30 points in a conference tournament game.
Even though Sydnor continues to shine in every game she plays in, the forward is very humble about her successes.
"I've just come into my own and started playing my own game," Sydnor said. "I think at the beginning I was trying to force too much. I need to get stronger, but I'm just trying to play my own game and play within the team system."
The intensity and work ethic that Sydnor has exhibited since becoming a Mountaineer has only continued into the 2012-13 season, and it seems that in the month of January, Maryah has stolen the spotlight.
"There's no question that coming out of high school she could score," said women's head coach Darcie Vincent. "She's a prolific scorer in many facets of the game. She can take you inside and she can take you outside. She's also rebounding the ball extremely well."
On Jan. 15, Sydnor was named the SoCon Player of the Week for games through Jan. 14, according to goasu.com.
Sydnor was able to score 23 points in Appalachian's first double-overtime game since 2003, along with 14 rebounds, four steals and three blocked shots, according to goasu.com. She was a key player in that victory, scoring eight points in overtime and was 4-4 from the line.
The basketball skills and talent the forward has developed comes from hard work in practice and on the court. She leads the team in free-throw percentage of players with more than five attempts at 51-55.
Although Sydnor still has two years of basketball left at Appalachian State, there is no doubt that as she continues to grow as a person and a player, Sydnor will continue to be an athlete to watch.
Story: KAITLYN THRUSTON, Senior Sports Reporter
Photo: JUSTIN PERRY, Staff Photographer