'Southern Constellations' makes artwork from junk
Elsewhere Museum, an artist-run non-profit contemporary art organization, has brought a collection of its most recent collaboration, "Southern Constellations," to the Smith Gallery, which will host a series of lectures and workshops by the traveling featured artists Thursday.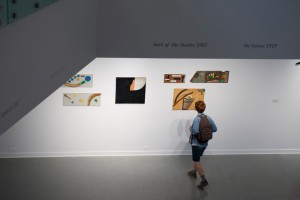 "'Southern Constellations' is a curatorial initiative that supports the creation of experimental new works at the museum and connects contemporary art practices in the South," said Jody Servon, the director of Smith Gallery and an associate professor in the art department.
Elsewhere Museum is set in a three-story former thrift store in Greensboro and invites artists to use their space and its inventory to create works of art. The projects act, in a way, as both the representation of the artist's own vision and their response to the materials and circumstances at hand.
This program is in its second year, and artists for the exhibition featured here were selected from those who participated in the residency at Elsewhere Museum.
"At the Smith Gallery, we are interested in sharing innovative works with students and hope they will engage with the ways that artists create in a variety of concepts and materials," Servon said. "I've been on the selection committee for the 'Southern Constellations' residency for the past two years, and I knew that the work would be thought-provoking."
Elsewhere began in 2002, when the store owner's grandson, a then-recent college graduate, visited the shop and thought to turn its massive inventory into an artistic playground. In 2005, Elsewhere began to invite artists to create new works from the old junk.
"I have enjoyed experiencing the range of objects and ideas in the works from polished military mess kits to videos of horses touring Elsewhere Museum," Servon said. "This is like no other exhibition we have had in the gallery."
The programming for this exhibition includes two seminars and a musical performance.
"What we are hoping to do is to inform, educate and excite people about the possibilities for working in the arts," Servon said.
She and other organizers said they are thrilled to be working with music faculty Todd Wright and students on the musical performance Nov. 13, as they often hire music students to perform at receptions, but this will be the first reception where musicians play works inspired by the art on display.
"Southern Constellations" features works in a variety of materials and processes from artists on view in the Smith Gallery until Nov. 18.
The exhibit is free, as are the events Nov. 13.
Art Start-Up, imagining and sustaining an artist run organization:
Elsewhere's Executive Director George Scheer will explore ways to support and develop creative missions while navigating grants, private giving and earned incomes. It begins at noon in room 212 of Wey Hall.
Artist as Curator | Curator as Artist:
Elsewhere's Production Curator Jennie Carlisle will talk about the processes used at the museum that blur and overlap traditional roles of art and production and presentation, while examining the development of this trend in contemporary exhibition practices. It begins at 1 p.m. in Room 212 of Wey Hall.
Musical Performance and Celebration:
Todd Wright and Hayes School of Music students including Nic Pressley, Grant Smith and Tyler Piette will play musical scores created by featured artist Andrew Raffo Dewar. It begins at 5 p.m. in the Smith Gallery.
Story: Lovey Cooper, Senior A&E Reporter