Speakeasy, 'Boone's tattoo shop' for the past 6 years
Tattoo artist Greg Kinnamon recently celebrated the end of his 6th year at Speakeasy Tattoo Company in Boone with the annual beard and mustache competition at Boone Saloon and with the opening of his own personal studio, located just across the street from the bar.
Though the party marks each year's passing, Kinnamon notes that he often passes by people with tattoos he remembers as recent, only to be reminded that they were completed years ago.
He refers to Boone as his "first retirement," having settled on the area after much deliberation as a quiet college town in the mountains.
"I was ready to build a life for myself that wasn't just a suitcase and a crazy city tattoo shop," Kinnamon said.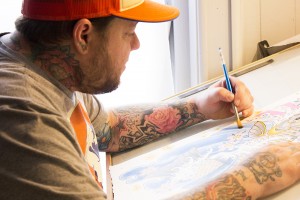 Before Boone he was traveling the world, learning his trade and honing his skills.
The years with Speakeasy have gone by quickly, Kinnamon said, something he didn't expect when the shop first opened – which happened while he was traveling Europe. He had left his business partner with some plans on a napkin, in the height of the financial crisis.
"We were sweating bullets in the beginning for sure because we just didn't know," Kinnamon said. "We invested everything we had and hoped it was a go, and I wasn't even here to nitpick. My world is small details, tattoos are small details. I don't overlook much."
Kinnamon's first business move once in Boone, before he reached any success, was to introduce himself to the town.
"I wanted people to know that I wasn't here to get rich. I wasn't moving here to make a million dollars to try to capitalize on something," Kinnamon said. "I was moving here because I wanted to be here and be a part of the community and I wanted to be Boone's tattoo shop."
As a result he designed countless T-shirts and business cards as favors for other small businesses. Being a part of the Boone community means helping your neighbor and doing charity work, he said.
"It's a small town – if you're not helping out, people are going to know," Kinnamon said.
He expanded to his new studio almost as a result of those connections. After flooding and an increase in clients at his original location necessitated more space, the hairstylist downstairs alerted him to the open spot. So far, it has worked out better than he could have imagined, he said.
Colin Weathers, owner of the Hidden Hand, a piercing shop located near Speakeasy's first location, met Kinnamon after he began getting tattooed at Speakeasy several years ago. Their client-tattooer relationship quickly became a friendship and was one major influence for Weathers in starting Hidden Hand nearby.
"Greg puts himself in a league of his own by pushing the boundaries of what it means to be a tattooer and an illustrator," Weathers said. "With Greg and the Speakeasy Tattoo Co. artists, the experience is more than just about a quality tattoo."
At his new location, also his personal studio, Kinnamon has the time and space to work on his paintings – which he keeps very fluid – alongside his clear-lined tattoos.
Micro-managing is a skill he has had on his side since the beginning, something he has used to his advantage in hiring and coaching the ever-shifting group of young tattoo artists he hires.
Kinnamon said the art is like being a young chef or hairstylist, and the more creative people an artist works with, the better they will be in the long run. Along the way, many artists have gone on to bigger cities, although he recently hired a more clientele-based group of tattooers looking to settle down, like himself.
He stresses that the job is more commercial than artistic. The difference, he noted, is that you can always give up on a painting if you get frustrated.
"If you show the client and the tattoo, the respect, it will come back to you," Kinnamon said. "If you really respect what you do, then you are never going to short change someone." He said he often forwards clients to other artists in the state if he feels that they are better at a style than he would be.
Although he originally expected the college crowd to change each year, instead he has found himself faced with repeat customers, many of whom are students who seek him out even after moving away.
Freshman music therapy major Holly Miller first heard about Speakeasy this summer, before coming to Appalachian, when she and a friend decided to check it out on a whim. Although they didn't end up getting inked that day, the impression was enough for her to come back as a walk-in to get the word "ataraxia," which means emotional tranquility and calmness, or peace of mind in Greek, tattooed on her wrist by Speakeasy artist Derek Lilly.
"When I came back, we talked for about 10 minutes about what I wanted and then he drew it up a couple different ways before I truly loved it," Miller said. He was very patient with me and didn't make me feel pressured into making a decision right away."
She calls it her favorite of her four tattoos, and plans on getting more work done there in December for her birthday.
"With Greg and the Speakeasy Tattoo Co. artists, the experience is more than just about a quality tattoo. It is that, of course, but it's also about cultivating lasting relationships with clients, other businesses, and the rest of the town of Boone," Weathers said. "I am personally honored to be able to wear his art as I am sure he was honored to tattoo me, and it's that respect and professionalism that really sets him apart."
On Dec. 4, Kinnamon will have been tattooing professionally for 15 years after his traditional apprenticeship, but he said his time in Boone doesn't feel significant enough yet. After traveling the world and raising a daughter about to go off to college, Speakeasy and his new location are still something he is figuring out.
"Until we have been here for 10 years, we haven't really done anything."
Story: Lovey Cooper, Senior A&E Reporter
Photo by Hallie Keighton