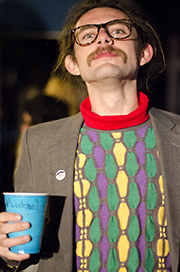 Following a quieter celebration last year, Speakeasy Tattoo Company has partnered with Appalachian Mountain Brewery to move its fifth annual Beard and Mustache Party out of its downtown shop.
The open party and facial hair competition is held each year to honor the anniversary of the shop's opening, and five years is especially significant, said Greg Kinnamon, owner of Speakeasy.
This year, the party will take place Wednesday at 7 p.m. at the Appalachian Mountain Brewery. Tickets are $15 and can be purchased in advance at Speakeasy on King Street.
"I think it's going to be a perfect fit for us because what they do over there is a lot like what we do over here," Kinnamon said of the partnership. "They want to make the best possible craft beer that they can, we want to make the best tattoos that we possibly can, but we both also really like giving back to Boone."
The third annual event was shut down hours early when police responded to noise complaints, before the facial hair judging even took place. In response, last year's celebration was notably quieter and less spirited.
"We just don't want to do that anymore – we want to blow the roof off of it," Kinnamon said.
This year, the new location is farther away from downtown residential areas and should facilitate longer festivities and the return of a live band. In the chance that the trade off of distance for space may intimidate the usual downtown crowd, Speakeasy has arranged for a van to shuttle participants to and from the party and the tattoo shop downtown throughout the night to keep walking distances the same.
"We just want to have the biggest party that Boone has all year long," Kinnamon said. "It's going to be the best party we've ever thrown, and if you miss this year you're going to be sad."
For $15, partygoers receive a t-shirt, stickers, pint glass, two beers and a raffle ticket toward $250 of tattoo money, as well as the opportunity to enter their facial hair, grown or crafted, into various competition categories for trophies and tattoo money. Speakeasy staff and others will determine the winners.
"I think it's going to be awesome here," said Jessica Collins of Appalachian Mountain Brewery. "I think it's going to bring tons of people, even only to watch."
Like most of the brewery's recent events, Collins said, the party has a charitable component in that all money raised from the sale of food will be donated to Boone nonprofit group High Country Local First.
"It's all about Boone, it's not about us," Kinnamon said. "It's all about the community that helps keep us in business and gets us through year after year."
STORY: LOVEY COOPER, Senior A&E Reporter
PHOTO: OLIVIA WILKES, Senior Photographer