Spicing up App State Volleyball
App State volleyball has a strong incoming freshman class this season, with a total of five freshmen standing on their roster. One name that has stood out is middle blocker Kara Spicer, who is surpassing expectations on the court.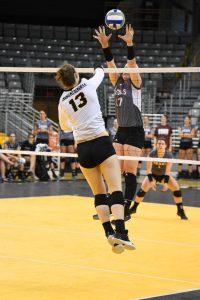 Spicer comes from a competitive club in her hometown, Peoria, Arizona and was expected to be a strong element right from the beginning for App State. Yet, this transition can be a lot to handle for any athlete, and Spicer is showing solid dependability. 
"I think I am transitioning pretty well. It is a lot different, a lot more tiring," Spicer said. "I think I am doing a good job with keeping up with the rest of the girls. There are definitely a lot [of] bigger blocks and a lot faster pace, so I think what I need to work on the most is learning how to hit around the block."
Spicer is leading the team with 125 kills and has been an impressive element to App State's offense. Spicer is no stranger to a competitive court, but recognizes she has more work to do. This drive has allowed Spicer to give herself a name within the first few weeks of her freshman season.
"She [Spicer] doesn't need to change a thing," head coach Matt Ginipro said. "She is having an amazing freshman year so far. We are only six matches [in], and it's relatively impressive what she is doing. She just knows how to score."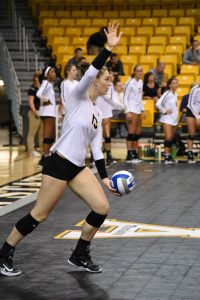 This strong work ethic was apparent with her recognition from the Sun Belt Conference, being named freshman of the week for two consecutive weeks. Spicer is the first student-athlete to receive this award back-to-back.
Spicer recognizes that it was not just an individual effort to be where she is right now. Her fellow Mountaineers have created an environment that urges one another to be their best.
"All the girls really push me to be better. That is part of our culture, accountability and pushing you," Spicer said. "Making sure you are doing every rep with the right mindset and make sure you are doing it right."
Spicer has already set herself a record of 17 kills within one set. The record was set in a match while playing Towson and Virginia. Not to mention that while playing South Dakota, Spicer set her own personal best with an astonishing seven blocks, and she is still striving for more.
"I think this is a starting off point, I still have work I need to do," Spicer said. "I'm not done. I still need to improve, I can improve on a lot of things."
Spicer has an exciting season ahead of her, with a stunning performance and numerous accolades to show for it. Yet many, including Ginipro, are excited to see what she can do next.
"I think she is only going to get better. The thing about being a fall sport, and you're a freshman, is we kind of just throw you into the fire," Ginipro said. "There is not a lot of individual training going on and that happens in the spring. I am pretty excited to see what she continues doing this fall, and how good of a player she will become when she has this spring to train."
Story By: Grayson Rice, Intern Sports Reporter
Photos By: Halle Keighton, Photo Editor and Cameron Schaefer, Intern Photographer