'Standing Still' exhibition displays Ashe County artist's scope of work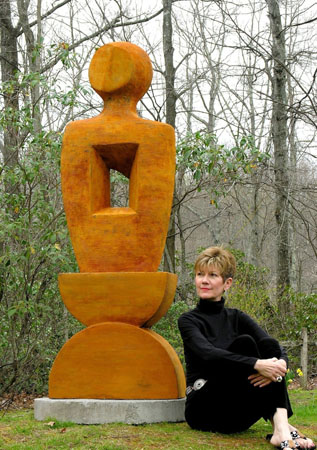 For a true look into the life of ceramic artist Mary-Ann Prack, go no further than the Turchin Center for the Visual Arts.
The Ashe County artist's current exhibition "Standing Still" is the manifestation of work driven throughout the past 30 years and carried by the influence of her childhood.
Raised in a family of "artists and architects," Prack said she finds inspiration for her work through humanity and geometry. Most of her work is the abstracted human form, carrying geometric shapes and linear designs alongside the organic forms of the overall pieces.
"The way I visualize spaces and break up designs and the graphics of it, the line work is all very architectural," Prack said.
Her work focuses on the human figure, a common theme that she has built upon since the beginning.
"With the human body, there's just so much that can be said about it – so much with movement and interpretation of emotion – there's just so much there," Prack said. "I've never – knock on wood – run out of ideas. I just keep exploring and keep doing new things."
The exhibition, her first solo show in Boone, features ceramic sculptures of various sizes constructed from 1990 to the present, alongside related sketches and a few paintings.
Prack works intuitively, allowing the piece itself to guide her.
"As I work, the piece evolves – it's just very spontaneous," she said.
These combined influences result in a sort of simplicity that not only creates a visually pleasing work, but also provides an emotional connection.
"There's an emotional content to the pieces, people have said, that the work moves them spiritually as well as being something that's enjoyable to look at," Prack said.
Pegge Laine, the director of outreach for the Turchin center, also finds Prack's pieces enjoyable to look at.
"I just love to come in here and be with the figures because it's just so inspiring," Laine said.
Another emotional connection to the art comes from the fact that Prack could only paint after she was diagnosed with cancer in 2004 and was physically unable to sculpt.
"For me the paintings and the clay work so well together, it's just absolutely amazing," Laine said. "It's about her life and her process; the fact that she's done this for 30 years – this is her life."
"Standing Still…in the Abstract: Sculpture, Paintings and Drawings by Mary-Ann Prack" is on display in the Turchin Center until March 23.
Story: LOVEY COOPER, Senior A&E Reporter
Photo Courtesy: WILLIAM MALER